8:30Am Being pickup from your hotel / place to our office then taking the Electric car for the tour to Wat Mai Suwannaphumaram Monastery built in late 18th century founded by King Anurat (r. 1795-1817) in 1796 and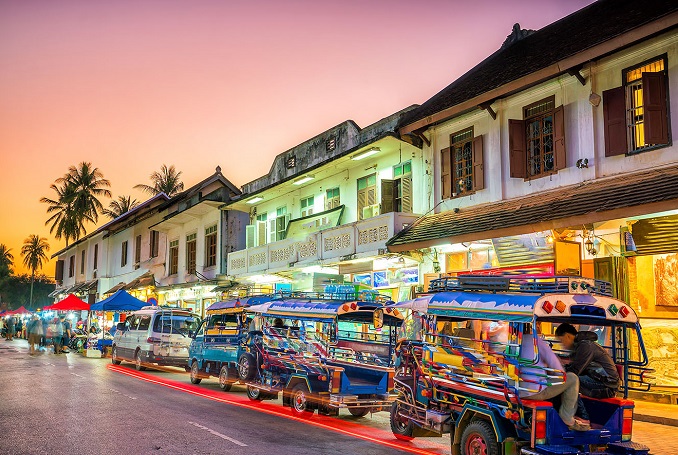 restored in 1821 by the King Manthatourat.
The Royal Palace Museum called as Haw Kham the Golden Hall, builds between 1904-1909 blend of Laotian and French Beaux Arts architectural as the new official royal residence for the monarchs of Luang Prabang and converted into a Museum in 1976. The Royal Palace Museum opens from Wednesday to Monday at 8:00 am to 11:00 am, and 1:30 pm to 4:00 pm.
Then take the Electric Vehicle to: – The Wat Choumkhong built in 1843 by Phakhu Keo, during the reign of King Sukaseum (1836-1851). The sim was restored in 1933 and 1951.
The Wat Xieng Muan was founded in the mid-19th century by Phragna Sisonxay in 1853, during the reign of King Chantharath Koumane (1850-1868) .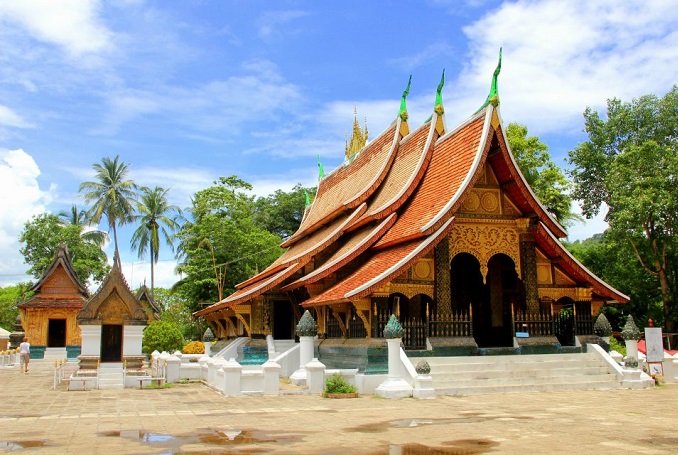 And Visit: A Traditional Lao Wooden House (Heuan Chan Heritage Museum), learn about the architecture of Traditional Houses in Luang Prabang's past.
The museum opens for from Monday to Friday at 8:00 am to 12:00 pm and 1:30 pm to 4:30 pm. Discover the Colonial Architecture, on the way to the Wat Xieng Thong one of the most beautiful temple in the town.
Wat Xieng Thong Ratsavoravihanh built in 1560 - 16th century by The King Setthathilat to commemorate the memory of the Chanthaphanith and Jataka stories from Buddhist cosmology. Xieng Thong Ratsavoravihanh, or Volavihan, the "Golden City or Golden Tree Monastery" is the most historically significant and impressive of Luang Prabang's temples a typical Laos Architecture of Luang Prabang. Then enjoy the way along the Mekong River until Wat Wisunalat and the famous Melon Stupa next to Wat Aham,
Wat Wisunalat built during the reign of King Wisunarat (1501-1520) and represents the earliest style referred as Luang Prabang Style of Lao temple architecture. And it was rebuilt between 1896 and 1898 and during the reign of King Sakkarin Kamsuk (r. 1894-1903). And enjoy the way along the Nam Khan River until the peninsula, after a stop on the sandbanks of the Mekong confluence. Continue with next to The World Heritage House:
The Wat Pak Khan, built by Phagna Chanthep under the reign of King Inta Som (1727-76), it was reconstructed in the early 20th century. On the way of the Sakkalin Main street road main stop to:– Wat Kili built in 1773 by the Tai Phuan from Xieng Khouang under the reign of King Rama IV in Rattanakosin period. Next to the Wat Sibounheuang to finish the tour is to visit Wat Sen soukaram (Wat Sen) built in 1718, then take the Electric car to Royal Palace
End tour.
Price:
US$45/pax
Included:
Speaking English guide, transfer, bottle of water, entrance fees,
Excluded:
Drinks, tips and other expenses