By: AuthorKenny
Posted onLast updated: March 21, 2023
If you're heading from Thailand to Laos, there's a good chance you'll be following a rough route of Bangkok to Chiang Mai to Chiang Rai to Chiang Khong.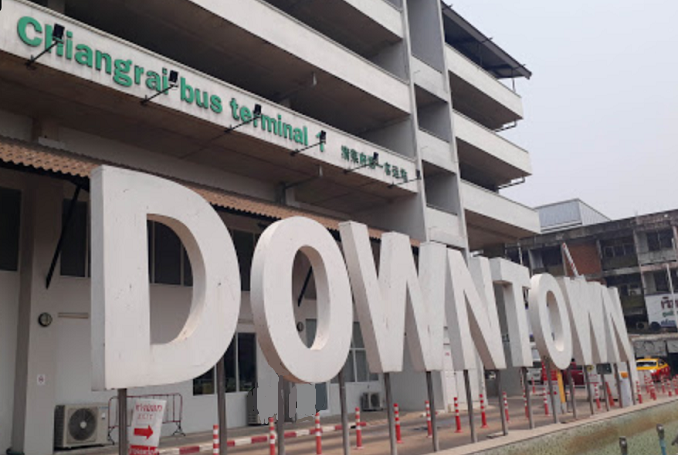 Chiang Khong is where you'll find the Chiang Khong / Huay Xais border between Thailand and Laos, which is in turn the jumping off point for the Two-Day Slow Boat from Huay Xai to Luang Prabang, Laos.
There are plenty of private options you can book, from mini-buses to taxis, but the cheapest (and in our opinion, easiest) way is to take the public bus from
Chiang Rai to Chiang Khong.
The Basics of the Ride from Chiang Rai to Chiang Khong
Time:
2 Hours
From:
Chiang Rai Bus Terminal 1 / Old Bus Station
To:
Friendship Bridge and Chiang Khong Bus Station
Cost:
70 Baht Per Person
Difficulty:
Easy!
Your journey from Chiang Rai to Chiang Khong starts with departing from Chiang Rai Bus Terminal 1.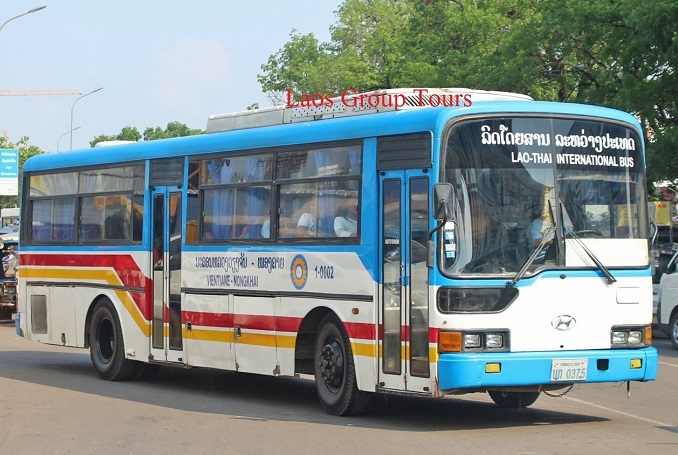 Getting to Chiang Rai Bus Terminal 1
Chiang Rai has two bus stations, But Station 1 and Bus Station 2. Bus terminal 1 is known to the locals more commonly as the "
Old Bus Station
." This is the bus station we used for this trip in addition to our bus to Chiang Rai from Chiang Mai and our bus to the White Temple (Wat Rong Khun) Outside Chiang Rai.
Bus Station 2, the newer station, is actually a bit south of the main city and is mostly used as a transfer station between buses to different cities. The public bus to Chiang Khong departs from
Chiang Rai Bus Terminal 1 / Old Bus Station
.
It's hard to miss the old bus station, right in the center of the city.
Old Bus Station is located right in the heart of the city next to the night Bazaar. It's incredibly easy to get to from anywhere in the city, and any Tuk Tuk / taxi / Uber should have no problem getting you to Old Bus Station.
Finding the Bus to Chiang Khong
The buses at Old Bus Station are organized by destination, with signs posted at the front to tell you where the bus is heading. When we were there, there were two buses to Chiang Khong, one departing at 1:00 PM and one departing at 1:30 PM. There were signs in front of each indicating the scheduled departures for the day. You should plan on one per hour from 6 AM to 5 PM. We're not sure what the deal with the 1:30PM bus was.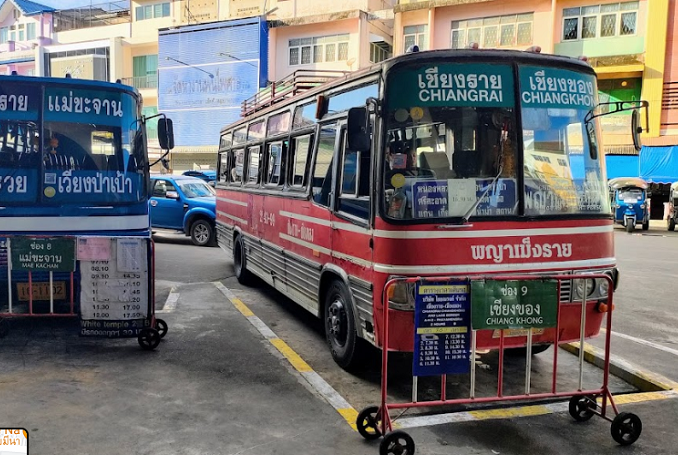 We arrived at the bus station at about 12:40 for a 1 PM bus. If you look at the sign in the picture, you'll see that it indicates the destination is "Friendship Bridge – Chiang Khong – Laos (Huay xai). This is a different (newer) sign than some older blog posts show. The attendant on the bus may be saying "Laos Laos" in getting people onboard, but you can confirm that it will also stop at Chiang Khong bus station.
The reason for this is that the bus now makes two stops. It makes one stop just outside of Chiang Khong center, a few kilometers from the Thailand – Laos border crossing at "Friendship Bridge" for people who want to make the border crossing that day. Most people on our bus took that option, but we were heading into Chiang Khong proper.
The Ride to Chiang Khong
Like the other public buses in Thailand, the bus was nothing to write home about. We were riding in January during a nice cool spell, but the bus was equipped with fans for hotter days. There is space for storage under the back of the bus, but we just kept our bags with us and sat in the back (where there was also space for bags to be stored).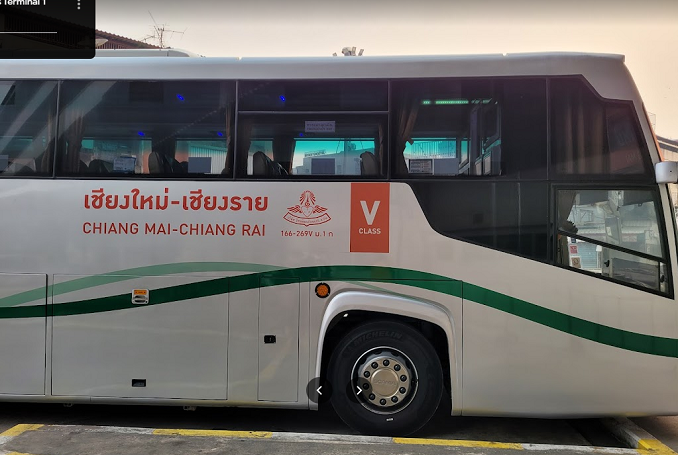 Bus from Chiang Mai from Chiang Rai Bus Terminal 1
We departed on time at 1 PM, and shortly after we got on our way the attendant came through taking 65 THB per person and confirming our destination. The ride is pretty smooth, with only a small section that could be called winding. The back door (by us) was kept open the entire ride, which was nice for keeping us cool, but mind your belongings!
At about 3 PM, we arrived at the spot near the border crossing. Just before we got there, the attendant came through asking "Laos today? Cross border today?" to let those who wanted to do so know they had to exit at the first stop.
Most of our bus disembarked at that point. That spot is 5 kilometers (3 miles) from the actual border crossing. There are plenty of tuk tuks sitting there, waiting to take people from the bus to the border. We've read the rate for this ride is a standard 50 THB.
Arriving in Chiang Khong
At 3:12, we arrived in central Chiang Khong. The "bus station" consisted mostly of an alley and a sign that said "Bus Station to Chiang Rai."
This is the "bus station" we stopped at in Chiang Khong.
From the bus station, you can walk to most of Chiang Khong. We walked about 20 minutes to our hotel (the ibis Styles Chiang Khong). There was only one tuk tuk sitting there, but we arrived on New Year's Day and the city was a bit slow overall. A few more drove past us during our walk to the hotel, but we just enjoyed the walk.
Schedule and cost for Bus public bus from Chiang Rai - Border - Luang Pabang
Chiang Rai to Border
Bus leave from Chiang Rai Bus Terminal 1 to Chiang Khong in almost every 45 minutes ( You dont need to book the ticket in advance) the trip take 2.5 hours.You have to take Bust from Chiang Khong Bus Terminal to Thai - Laos Border Take about 60 BATH
Exit and entry:
The exit takes a maximum of 10 minutes. Then you need a shuttle for 30 THB per person to cross the bridge to the Laotian entry. The entry takes maybe 15 minutes to fill out the documents. Processing fee for the visa 50 THB (100 if you don't have a photo with you) and 1600 THB for Lao Visa
Border -> Houayxay bus station:
From Border You had to take a TukTuk from the border to the bus station in Houay xay
Huay Xai Bus Terminal
for 100 THB per person. Approx. 15 min drive. No chance to negotiate
Houayxay -> Luang Namtha:
At the bus station in Houayxay we booked a minivan to Luang Namtha for 2 p.m. departure (1 p.m. there would have been one). Per person 120000 kip or about 250 THB. Duration approx. 4 hours. Unfortunately, the bus station in Luang Namtha is outside the center and there is another 100,000 kip for a taxi to the accommodation. We finally arrived around 6:30
General:
None of the buses had AC. There was no lunch break on the Chiang Rai -> border and Nong Khiaw -> Luang Prabang journey. Otherwise always. There is then local food and also soups as vegetarian options. The road in Laos to Nong Khiaw is sometimes very bad and bumpy. It has often made people sick.