1, Blue Lagoon Vang Vieng
There are currently 4 Blue Lagoons in Vang Vieng, that have been numbered in order of when they were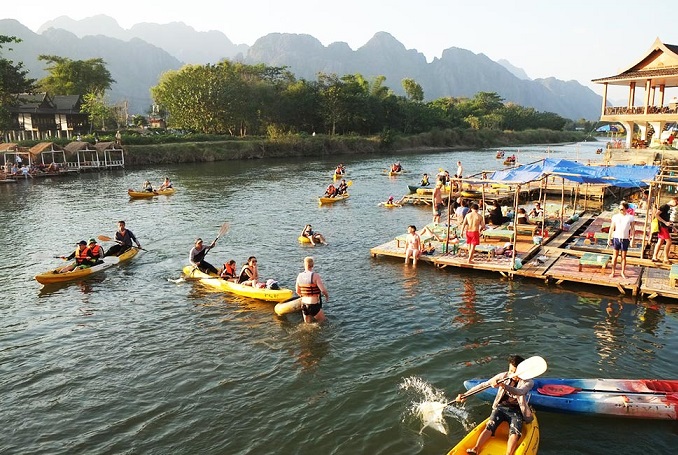 discovered.
However as another two secret lagoons have recently been found there will soon be a total of six Blue Lagoons in Vang Vieng.
The latest additions, Blue Lagoon 3 and Blue Lagoon 4 are the least visited, but are highly recommended instead of the popular Blue Lagoon 1.
Each of the lagoons have an entry price of 10,000 LAK per person, and tuk tuks from Vang Vieng centre will happily take you on a lagoon hopping day trip.
Just remember to bring a towel and your waterproof dry packs.
2, Tubing in Vang Vieng
One of the most popular things to do in Vang Vieng is tubing. This usually takes place along the Nam Song river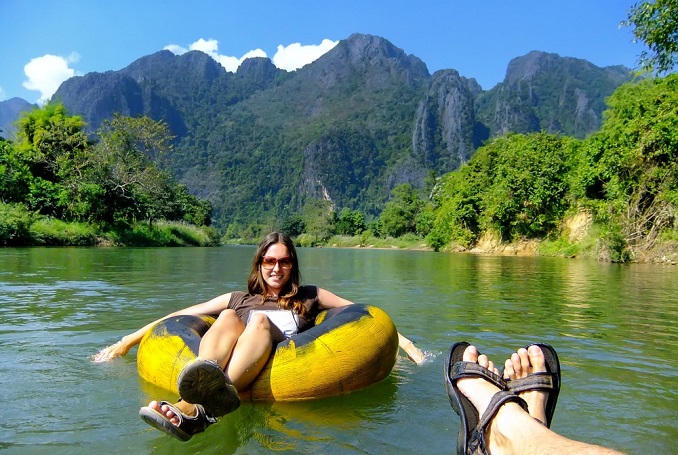 but there are opportunities to skip the drink fuelled activity and try tubing in Vang Vieng in a quieter setting.
We joined a day tour in Tham Nam that encompassed tubing, zip lining, kayaking and a visit to Blue Lagoon 4 (four of the most epic things to do in Vang Vieng!).
The action packed day tour was located only 20 minutes away from the town centre, and included pick up and drop off, making it the more efficient and affordable choice compared to doing each activity separately.
The tubing took place in the Tham Nam water cave, where we were given headlamps and helmets so we could explore the inside of the cave whilst floating through the tunnels.
A far cry from the alcohol fueled tubing experience that Vang Vieng has been known for in the past.
3, Kayaking in Vang Vieng
If you're wondering what to do in Vang Vieng kayaking is an absolute must.
We did a 5 km route along the Nam Song river through some light rapids all the way to the banks of our hotel, .
Along the way we witnessed local fisherman catching seafood and paddled past the rural areas of Vang Vieng.
4, Ziplining in Vang Vieng
The lush green countryside of Vang Vieng in Southeast Asia is perfect for zip lining.
Tham Nam has nine ziplines of varying lengths including a Superman zipline all the way down to the water cave and is easily one of the most exciting things to do in Vang Vieng.
5, Hot Air Balloon Vang Vieng Laos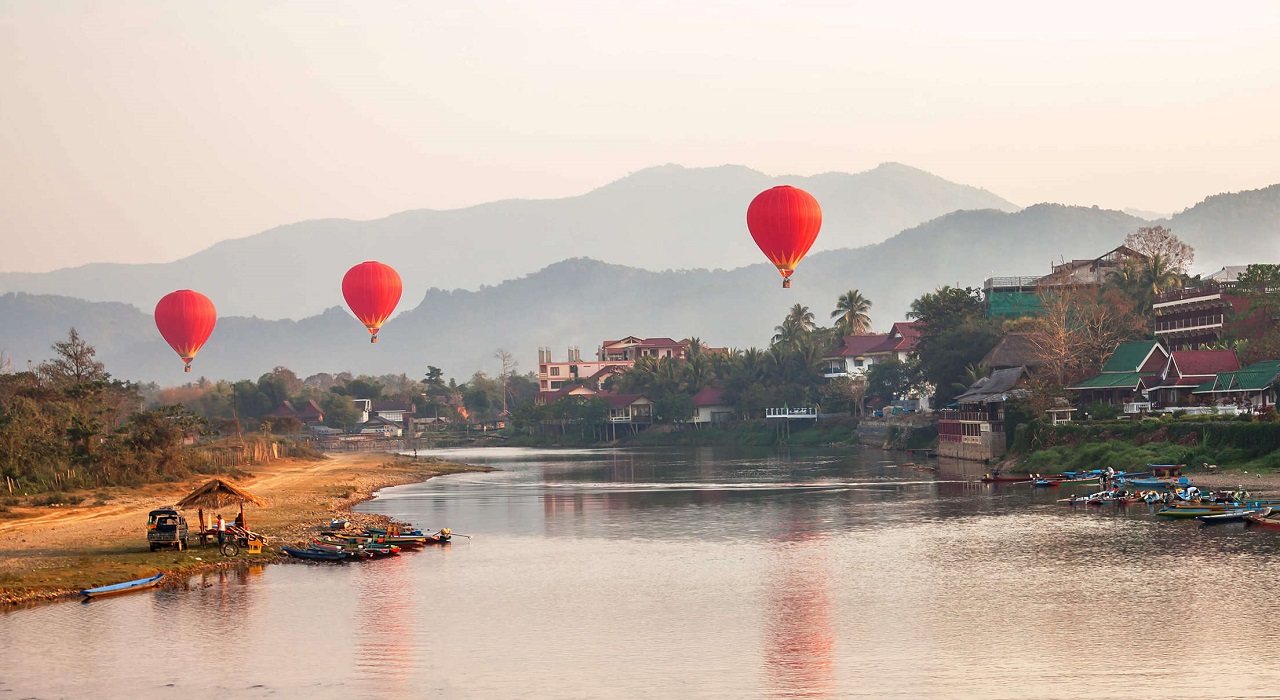 One of the cheapest places in the world to take a hot air balloon ride is Vang Vieng in Laos.
Balloon flights are a fraction compared to the hefty price tag for a hot air balloon ride in Bagan, Myanmar.
Balloon flights in Vang Vieng take place at sunrise and sunset and fly over the serene Nam Song river, dramatic Karst mountains, and lush Vang Vieng rice fields.
6, Visit the Rice Fields in Vang Vieng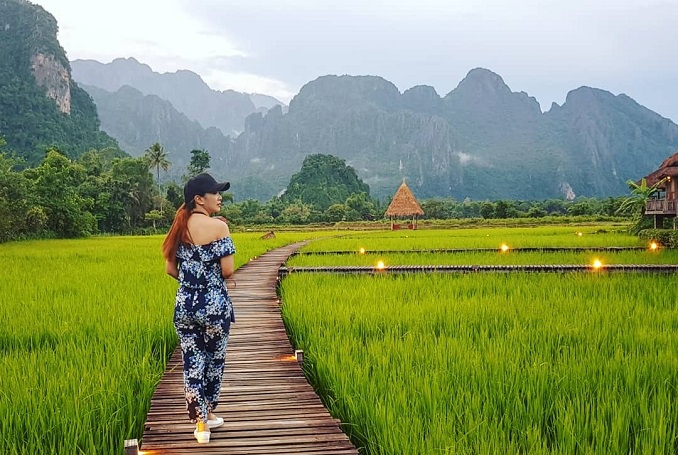 One of the best Vang Vieng attractions is the rice fields located at Vieng Tara, on the opposite side of the Nam Song River.
The best way to reach the rice fields is by crossing the free bamboo bridge which is located close to Amari Vieng Vang.
The walk to Vieng Tara takes around 20 minutes from the town centre but check which bridge you are crossing as many of them are NOT free.
7, Hiking in Vang Vieng, Nam Xay Viewpoint, Vang Vieng Viewpoint
Nam Xay is the best viewpoint in Vang Vieng, and if you only have time for one hike this should be it.
The starting point of the hike is located close to Blue Lagoon 1 and takes only 15 minutes to reach by tuk tuk from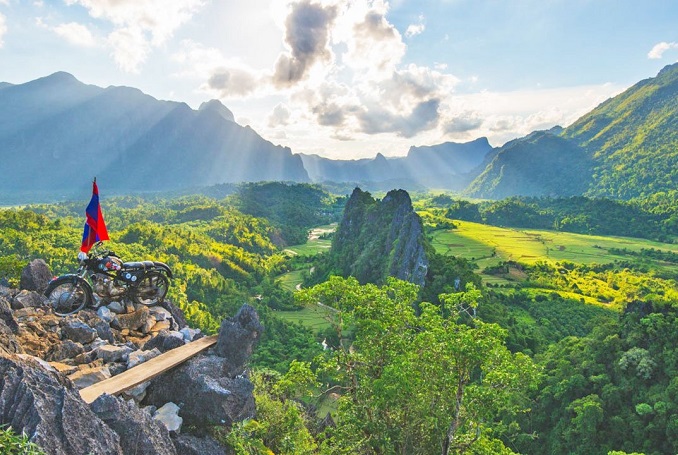 Vang Vieng town centre.
It is possible to hire a tuk tuk to take you there, wait for you to complete the hike and then drive you back for 150,000 LAK (~16 USD) total, which can be split between all passengers making it very affordable.
The Nam Xay hike in Vang Vieng has an admission fee of 10,000 LAK per person which is just over $1, and is used to maintain the trail.
Nam Xay is open from 6am to 6pm daily, and involves an ascent of 350 metres.
The hike only takes an average of 25 – 30 minutes, so whilst it is taxing it doesn't last long and is therefore suitable for most abilities.
Just ensure you wear trainers or hiking boots (not flip flops), and bring a bottle of water.
Nam Xay viewpoint has a bamboo platform at the top where you can enjoy the views as well as two motorbikes that have been placed in the perfect spot for photos.
The Vang Vieng viewpoint is usually very misty in the morning so I would suggest visiting just before sunset between 3.30 – 5pm when the weather is cooler and there is a golden glow across the Karst mountains.
Just make sure you leave enough time to get down before the trail closes at 6pm.
Note: If you visit during dry season from October – April, expect to get very dusty whilst hiking in Vang Vieng – just scroll down to see how messy we got (luckily laundry is super cheap in Vang Vieng!).
8, Paramotoring in Vang Vieng
One of the best ways to explore Vang Vieng is from the sky. There are affordable hot air balloons in Vang Vieng but if you'd prefer an adrenaline kick, take to the skies in a paramotor.
9, Vang Vieng Sunset Yoga Class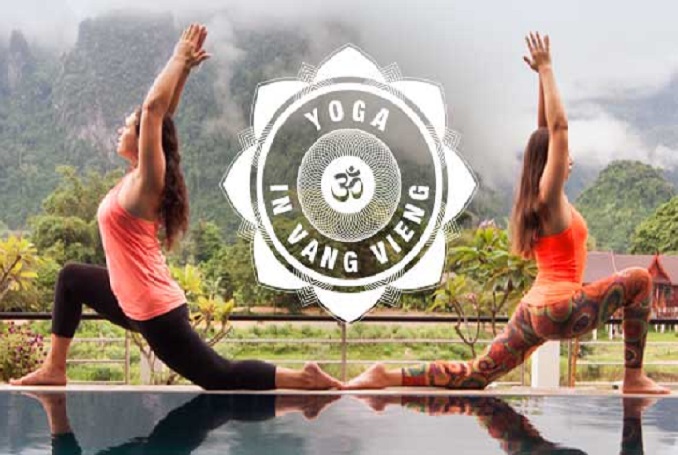 During the dry season, a daily outdoor yoga session takes place on a wooden platform in the rice fields in Vang Vieng.
Booking isn't required, just head to the Silver Naga Hotel before 4pm to walk with the rest of the group to the rice paddies across the river.
The outdoor sunset yoga session lasts for a 90 minutes and costs 80,000 LAK, for this unique experience.
10 Try a Laos Massage in Vang Vieng
Laos massages is very great and reasonable price, in Vang vieng you can choose Lemon Glass or Smile Massage and Spa 1.5 hour at round US$10. book in advand is recommeded
Best things to do in Vang Vieng, Vang Vieng things to do,
1, Blue Lagoon Vang Vieng
2, Tubing in Vang Vieng
3, Kayaking in Vang Vieng
4, Ziplining in Vang Vieng
5, Hot Air Balloon Vang Vieng Laos
6, Visit the Rice Fields in Vang Vieng
7, Hiking in Vang Vieng, Nam Xay Viewpoint, Vang Vieng Viewpoint
8, Paramotoring in Vang Vieng
9, Vang Vieng Sunset Yoga Class
10 Try a Laos Massage in Vang Vieng