Luang Prabang, a UNESCO World Heritage Site, is known for its vibrant festivals that celebrate the city's rich cultural heritage. The city hosts a variety of festivals throughout the year, each with its unique traditions and customs. Some of the most popular festivals include Boun Pha Vet, Boun Khoun Khao, Boun Makha Bousa, Pi Mai Lao (Lao New Year), Boun Bang Fai (Rocket Festival), and Boun Visakha Bousa. These festivals are celebrated with great enthusiasm and are an excellent opportunity to experience the local culture and traditions. For more information on these festivals, visit the official website for tourism in Luang Prabang
JANUARY
Boun Pha Vet
Who: Lao Buddhists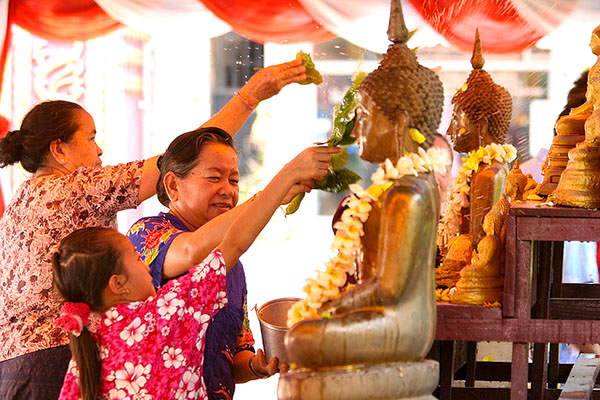 What: in this 3-day temple-based festival, the story of Prince Vestsantara (the Buddha's penultimate life) is recited.
Where: in Temples throughout Luang Prabang
Boun Khoun Khao
Who: Lao Buddhists, both lay people and monks.
What: a celebration of the rice harvest to give thanks to the spirit of the land and ensure the bounty of the next harvest. This festival is centred around a religious ceremony honouring rice.
Where: at Temples throughout Luang Prabang.
FEBRUARY
Boun Makha Bousa
Who: Lao Buddhists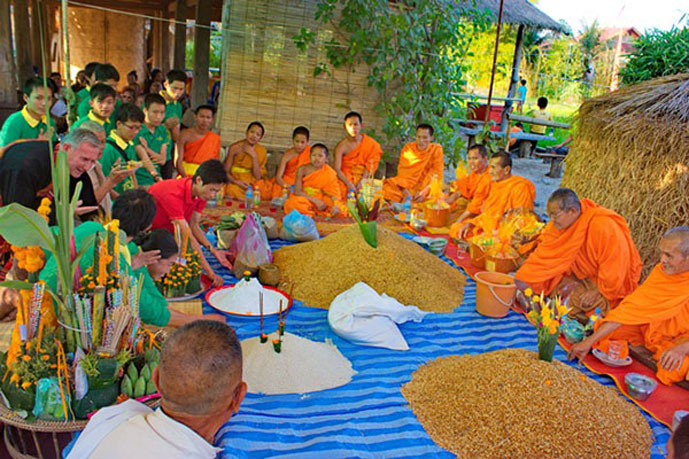 What: Held during the full moon, this festival commemorates a speech given by Buddha to 1,250 enlightened monks.
Where: Temples throughout Luang Prabang.
When: January 28th.
APRIL
Boun Pi Mai Lao (Lao New Year)
Who: All of Lao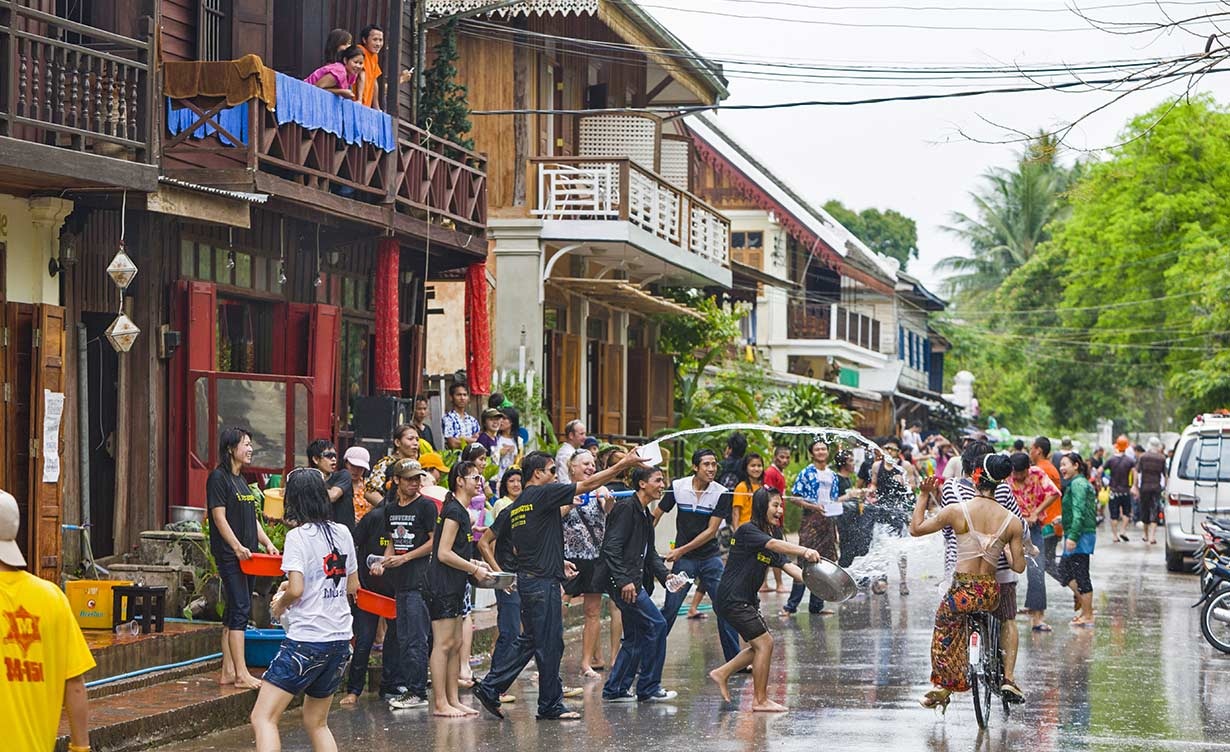 It's the most popular cultural festival in Luang Prabang – a time of year when locals let their hair down and the entire town get exciting. Pi Mai, otherwise known as Lao New Year, is a festival celebrated at the hottest time of the year – which is just as well, because most people remain drenched with water for the majority of the event. It's known as the festival of water fights but there are lots of other cultural activities that run over the week including an elephant procession through the main street, a grand parade that involves thousands of locals wearing traditional and ornate costumes, a beauty pageant to crown 'Miss Lao New Year', sand stupa merit making by the Mekong River, as well as the carrying of the Prabang – the town's most precious Buddha – from it's home at the National Museum to Wat Mai where it is put on public display as part of a watering ceremony.
Where: Everywhere — watch out, you might get wet!
When: April 10st – 25th
(The ceremony of watering the Buddha images on blessing at every temple in Luang Prabang 14th, and Parade on 15th-16th)
MAY
Boun Bang Fai (Rocket Festival)
Who: The people of Muang Nan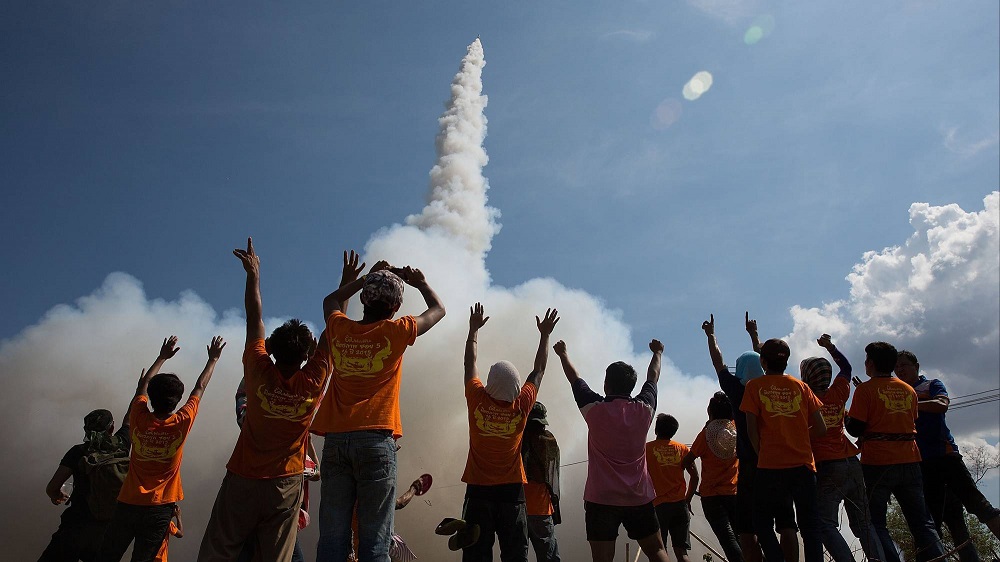 What: a rain-making and fertility festival held in Muang Nan, about 1 hour 30 minutes south of Luang Prabang city by road. Held just before the rainy season, it is a wild and happy ceremony, involving music, dance and street processions and culminating in the firing of rockets to tempt the gods to produce the rain needed for rice cultivation.
Where: located 75 kilometres south-west of Luang Prabang town. There are 2 ways to get there by Song-Theo are 5 times a day: 8:00 am | 10:00 am | 12:00 pm | 14:00 pm| 16:00 pm| or the bus to Xayaboury, there are 2 times a day 09:00 am and 14:00 pm.
when: May26–29th
Boun Visakha Bousa
Who: Lao Buddhists
What: on the fifteenth day of the sixth lunar month, this festival celebrates the birth, death and tatsahou (enlightenment) of Buddha.
Where: Temples throughout Luang Prabang.
When: April 26th
JUNE
Boun Khao Phansa
Who: Monks and Novices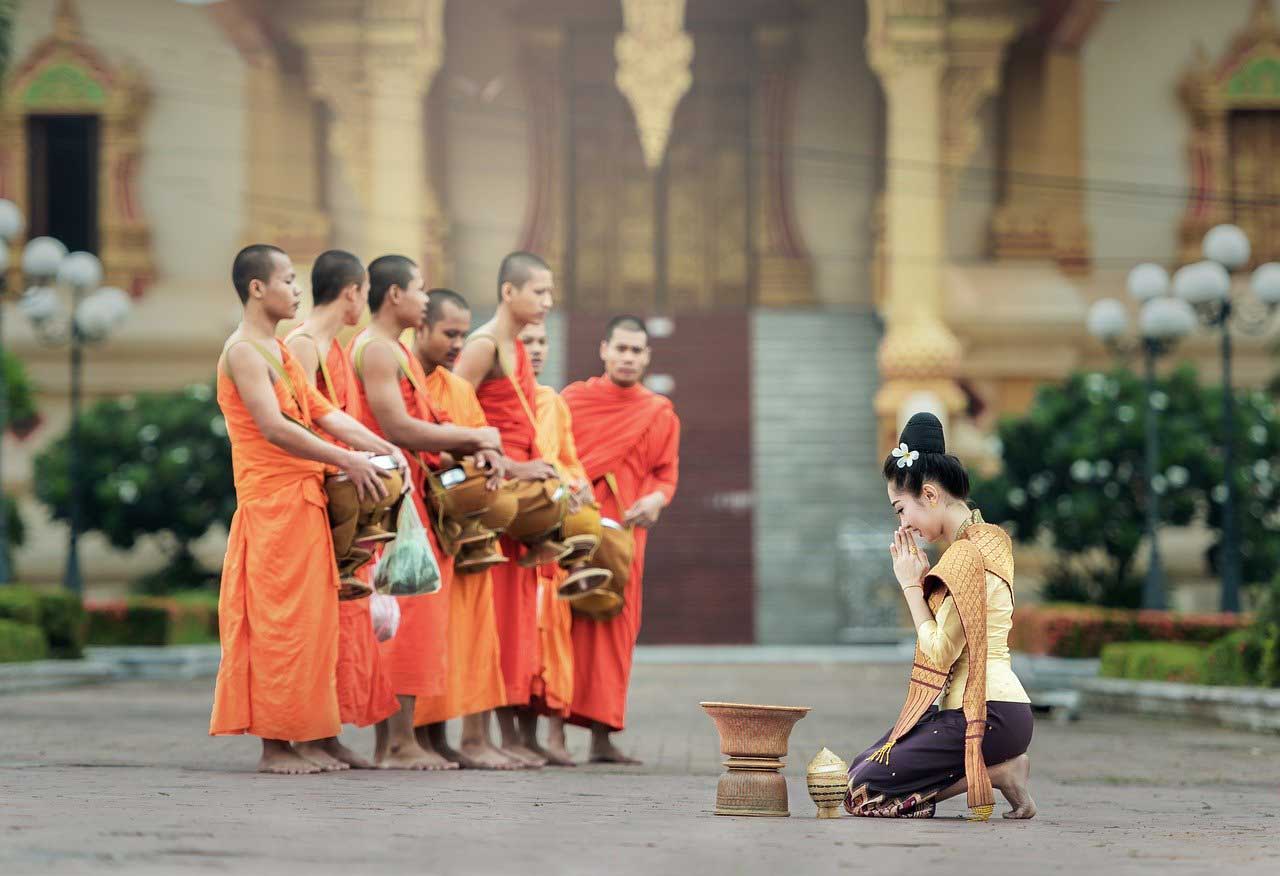 What: Held on the full moon day, this festival marks the beginning of Khao Phansa–often called 'Buddhist Lent'–a three month period of monastic seclusion and meditation during the rainy season.
Where: All over Lao. You can see one of the biggest Saibat in a year in the local temples.
When: July 24th
SEPTEMBER
Souang Heua (Boat Racing Festival)
Who: Everyone
What: This is a big day in the city of Luang Prabang's calendar as boats from the different villages compete to win the honour of the fastest boat on the river. Two boats race for around 400 metres on the Nam Khan, the winner goes on to the next round. The grand final winner will have run 4 – 5 races in one afternoon to have beaten all competitors.
Where: Nam Khan River, Luang Prabang city centre
When: September 14th.
Luang Prabang Market Fair
Who: Luang Prabang community
What: Held the day before the annual Boun Souang Heua (Boat Racing Festival), the market fair draws hundreds of vendors from around the country for a special street-market day that starts early in the morning and ends in the afternoon.
Where: Market fair start from the Old Stadium grounds to the Tourism Information Centre and Boat racing at along Khan river.
When: September 13th
Boun Khao Salak
Who: Lao Buddhists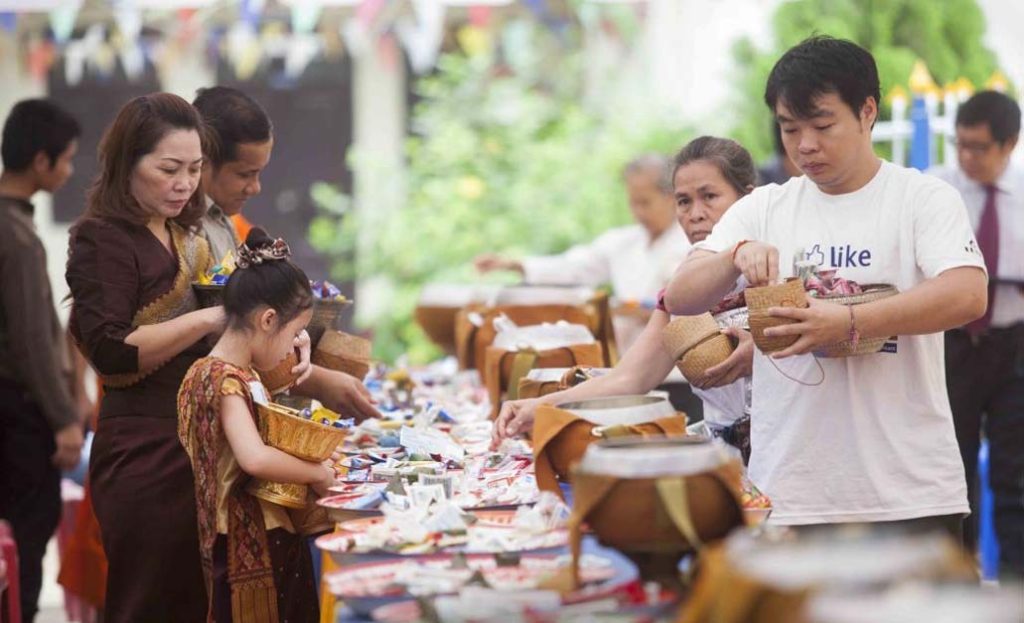 What: This full moon festival involves the presentation of offerings to a specific monk (decided by a lottery system). Offerings include daily necessities such as books, pens, sugar, coffee and cigarettes. Laypeople also give wax flower candles to the monks. The ritual brings merit to the givers.
Where: Temples throughout Luang Prabang
When: September 29th
OCTOBER
Boun Ork Phansa
Who: Lao Buddhists
What: This is a full moon ceremony ending the rainy season of monastic seclusion (Phansa). Monks who were ordained during this period leave the temple and rejoin their families. The festival also involves launching candle-lit offerings on the river at night.
Where: Temples throughout Luang Prabang, Mekong and Nam Khan Rivers.
When: October 29th.
Boun Lai Heua Fai ( Light Boat Festival)
Who: Everyone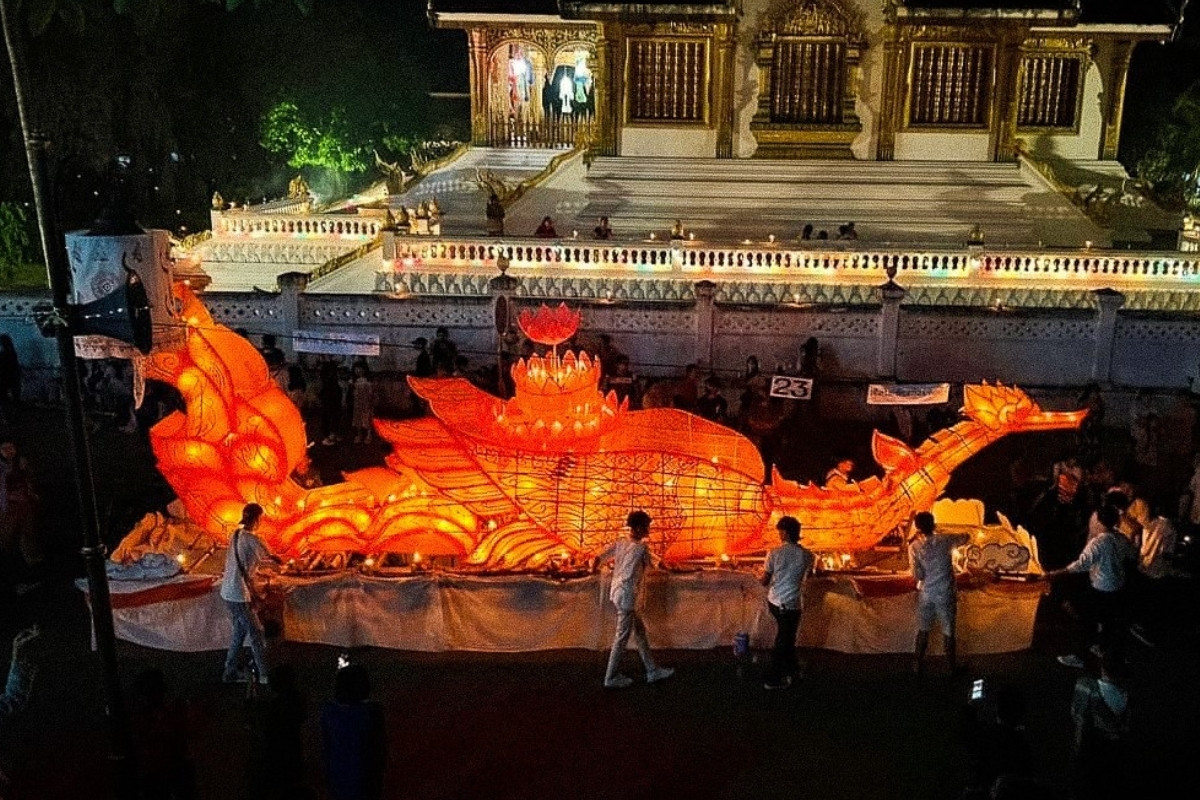 What: This is a festival to ask the nagas (water spirits) to bring good luck. Each village makes and decorates a boat which are then paraded through town and at night launched onto the river and ceremonially set on fire as offerings to the spirits. Flowers are also scattered onto the river to prevent bad luck and thank the water spirits.
Where: Throughout Luang Prabang.
When: October 30th.
DECEMBER
Luang Prabang Film Festival
Who: Everyone
What: An international film festival featuring
more than 20 Southeast Asian films. Lao and Thai films are screened each night on a
big screen in central Luang Prabang. During the day there are film screenings
and public discussions with filmmakers at Sofitel. Short films can be seen
around town at many locations.
Where: Luang Prabang Primary School in Luang
Prabang city center and all over town.
When: waiting
Boun Pod Pi or Boun Kreu (Khmu New Year)
Who: Members of the Khmu ethnic community and visitors
What: The Khmu are one of the largest ethnic minorities in Laos. They also live in southwest China and parts of Thailand and Vietnam. Each year they come together in December to celebrate Khmu New Year. The celebrations take place at a different village each year on the outskirts of Luang Prabang where traditional clothing is worn and many Khmu games are played. It's the best time of year to see men dancing with large clay pots, full of water, in their mouths – a spectacular sight – as well as other Khmu cultural displays. The event usually begins with a special bassi ceremony followed by lots of singing and dancing. The Khmu are known for their rice whisky, which is distilled in large clay pots and kept underground or in the dark for many months. The festival is a time for drinking and eating Lao food.
Where: Khmu villages (such as Ban Lak Paed)
When: choosing date depends on lunar calendar, mostly organize on the end of year
Boun Kin Chiang (Hmong Festival)
Who: Members of the Hmong ethnic community and visitors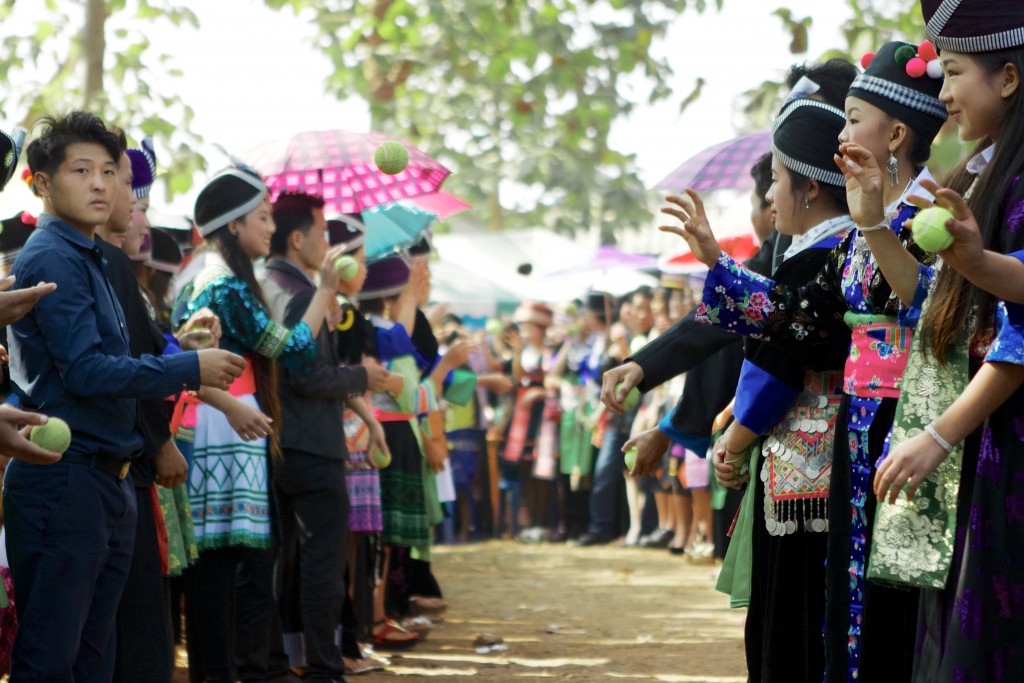 What: The Hmong are an ethnic group of people from the mountainous regions of Laos, Thailand, China, Myanmar and Vietnam. There are several tribes that live in Laos, each with their own unique customs and costumes, they are known as Black Hmong (Hmoob Dub), Striped Hmong (Hmoob Txaij), White Hmong (Hmoob Dawb), and Green Hmong (Moob Leeg/Moob Ntsuab).
Every December the Hmong people in the villages surrounding Luang Prabang gather for the Hmong New Year festival which is a celebration that takes place over a week and includes Hmong music, traditional ball games, dancing and a beauty pageant. Both men and women adorn themselves in colourful handmade garments with intricate headpieces and jewellery. The festival includes a fun fair with rides for children as well as many market stalls that sell souvenirs and food.
A different village plays host to the event each year so be sure to check our Facebook page closer to the date for specific information about the upcoming event.
Where: Hmong villages (such as Meung Nga, Khua Tee Nung and Phou Chang Kham village)
When: choosing date depends on lunar calendar, mostly organize on the end of year
Luang Prabang New Year Eve (Solar Year Countdown Party)
Who: Visitors, Foreigners, and people of Luang Prabang
What: The Tourism Office sponsors a count-down party to commemorate the start of the new year on the solar calendar.
Where: The street market near the start of the Night Market, across the street from the Tourism Office.
When: December 30th-31st.