8 AM After breakfast, you will be picked up by our tour guide from your hotel then start enjoy a full-day guided tour to discover the beautiful surroundings of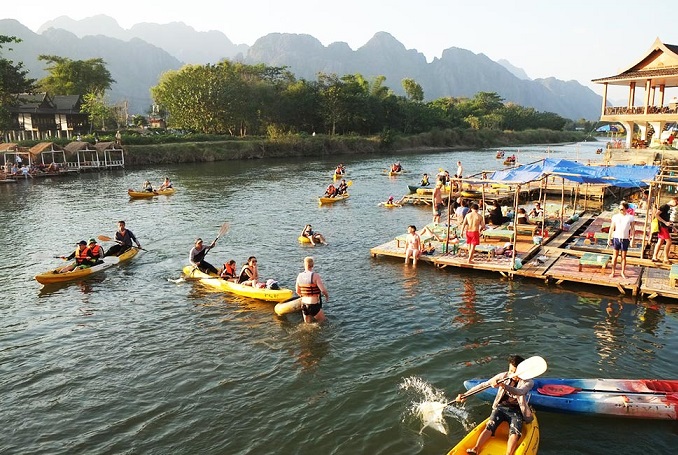 Vang Vieng.
Your tour begins by crossing the Nam Song River for a short drive to Tham Pou Kham (Golden Crab Cave). After passing through a small entrance hole you descend 100 meters into the ground. However, the cave widens once inside, where a reclining Buddha statue welcomes visitors to a place once serving as the home to bats, gibbons, monkeys, and antelope.
Tham Pou Kham displays several wet rock formations including a pair of "Golden Crabs". After exploring the cavern, you might like to go for a cold swim in the Ka River's water hole, locally called "blue lagoon". The water is clean, deep, and safe for jumping in if you feeling brave, before transferring south to your next stop.
Considered by many as Vang Vieng's most important cave, Tham Chang (or Jang) became the home for migrating people, who settled near the town's southern Meuang Xong Village to raise vegetables. The locals stumbled into the cavern during a civil war,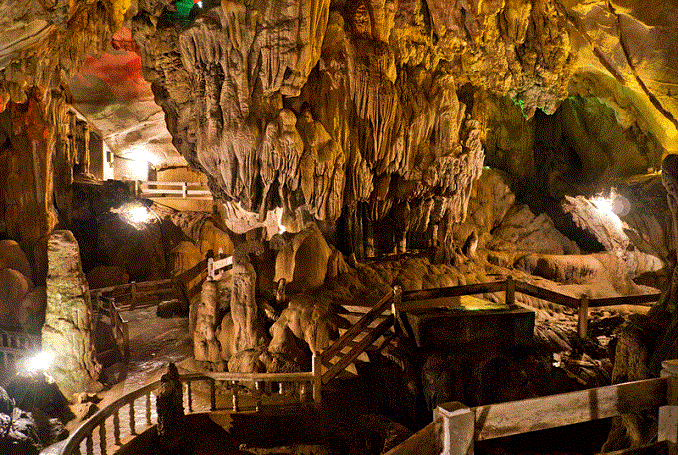 while seeking refuge deep in the forest. Because its high location offered perfect views of Vang Vieng, the entire village moved there to sit out the war, and named their haven 'Tham Jang' (Hang Around Cave). Years later during the colonial era, the locals returned to cultivating the nearby fields and would bathe in the cave's basin, where the water was so cold they said it could freeze your legs to a firm stiffness. They then adjusted the cave's name to 'Tham Chang', which means "unable to move", leaving locals no choice but to "hang around"! Inside you will find spectacular stalactites and stalagmites and a viewpoint offers an impressive panorama. Once you climb back down you have the option to swim in the natural spring water.
Take a local long tail boat (2 people per boat) to cruise for approximately 1 hour upstream on the Nam Song River, enjoying the beautiful scenery as you go.
You will then be driven back to your hotel, with the option to stop at local villages and a market along the way.
Relax for the rest of the day and enjoy a beautiful sunset on the Nam Song River from your hotel.
Price US$85/pax
Min group 2 pax
Included:
Private transfer, Private boat trip as stated in above sights, English speaking guide, Admission fee to indicated sights, Government tax and service charge, Bottle of water, Lunch
Excluded:
Tip, drinks, personal expenses and others not mentioned