Vang Vieng city is known as one of most popular Laos destinations. Come to Vang Vieng, you do not only explore the mystery land but also you can take part in many outdoor activities such as caving, tubing, hiking, and zip-lining. In 2 days in Vang Vieng, Hiking and Ziplining tour will bring for you a wonderful ideal during your Laos Vacation.
Day 1: Trekking Vang Vieng (Meals:L)
8:00 AM Being picked up by our tour guide and driver than take about 15 minutes road trip to the Pakpo Village boat pier where you will cross the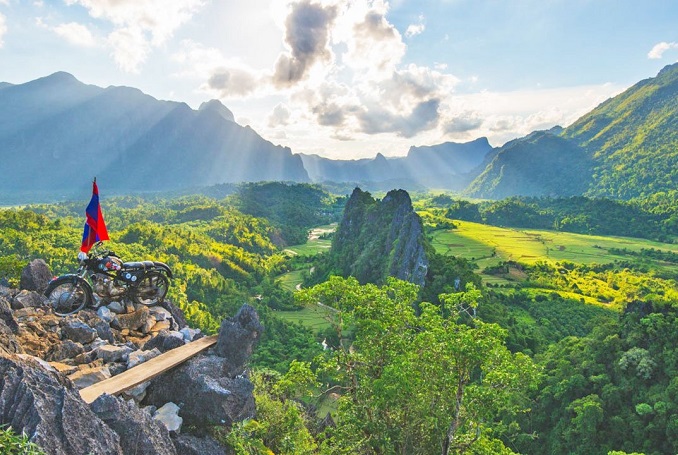 Nam Song River which a side river of the Mekong that flows gently along Vang Vieng.
Trekking through rice fields and small streams start as soon as you disembark at the other side. Actually, the power of water is not to be underestimated and with the assistance of your guide and robes connected to the mainland, navigating these streams will be fairly easy. If you want to hike further, the terrain becomes the steeper and these indications announce the start of some zip-lining! The feeling of flying through the air, like suspended in the air by nothing but a solid line will only be the start of what's there to come. Next on the agenda will be the challenge to use your climbing skills to cross from the bottom of the water across a deep gorge via a U-shaped cable bridge, which tasted that good once you accomplished this amazing feat of adventure. It is all so worth it once you can see the view of the limestone scenery and you will have time to soak it all in before arriving at your campsite for dinner and overnight.
Day 2: Zipline in Vang Vieng (Meals:B, L)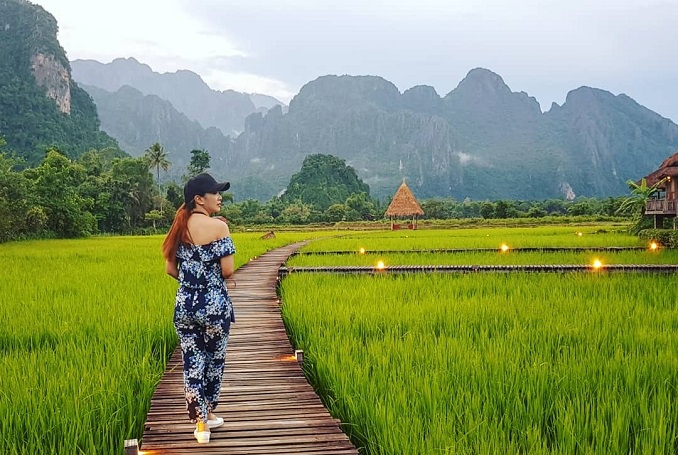 It's very interesting when competing in the morning to fly over the canopy of the forest with smashing views of the towering trees and remotely located waterfalls. In Vang Vieng, there are also have another V-shaped cable bridge that challenges you to reach the other side of another gorge before zipping – lining down the mountain and meeting our driver. It's time to head back to Vang Vieng where you can share your adrenaline-filled adventure with your travel companion. Back around 17:00 hours.
Price USD125 per person
Min booking group: 2pax
Included:
Climbing equipment, Transportation, Taxes and service charges, Speaking English guide, All entrance fees included, 1 night Accommodation at a campsite
Meals as mentioned
Excluded:
Drinks, Tips, Personal Expenses, Hotel accommodation in the start destination (Vang Vieng), Travel insurance coverage for customers,