Itinerary
Day 1: Luang Prabang Arrival – Phousi Mount. Viewpoint and Luang Prabang Night market
On arrival you will be picked up by our driver from airport and transferred to your centrally located hotel. This evening for those who are feeling more energetic – we highly recommend you to take the optional tour to Mount Phousi and Night Market. At 4.30pm you will be picked up by our tour guide, we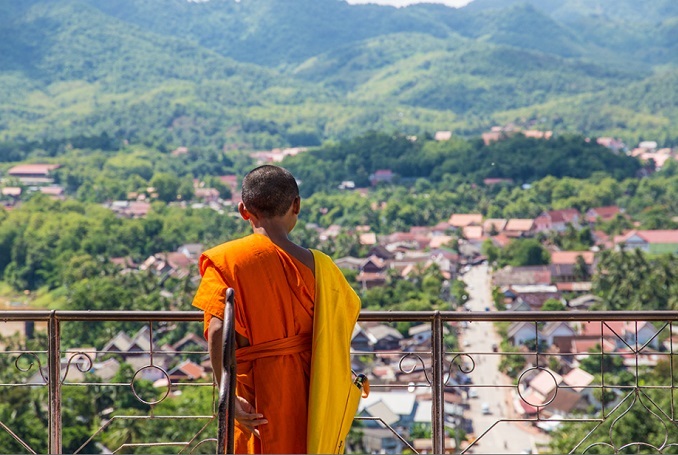 will visit Phousi mountain. Rising 150 meters above the center of town, Mount Phousi cuts a distinctive figure on the Luang Prabang skyline. The hill is popular as a place to watch the sun set over the Mekong River. From the summit you can enjoy a spectacular 360-degree outlook across the city and its many temples, and out over the surrounding landscape to the mountains in the distance. Count on spending a couple of hours for the climb and descent, with several stops to see the temples, rest under the shady trees and admire the magical views. After visiting Phousi mountain, our tour guide will lead you visit Night market with a few hundred stalls.
The products range from chess games in ornamental stone to silk scarves, passing by embroidery, sculpture, more or less real opium pipes, portrayals of Buddha in all imaginable forms, local paintings, done around the symbolic Buddhist representations, etc. It is a place where you must go and where bargaining is often very colorful… Both tours will finish in the main street of Luang Prabang, where there are many options for you to enjoy dinner by yourself.
Overnight:
Hotels in Luang Prabang (hotel option)
Meals included:
N/A
Day 2: Mekong Cruise to Pak Ou Caves, Buffalo Dairy Farm and Kuang Si falls
At 7:30 am you will meet with a tour guide and embark on your adventure on a private boat cruise upstream the Mekong River. After your cruise (Approx.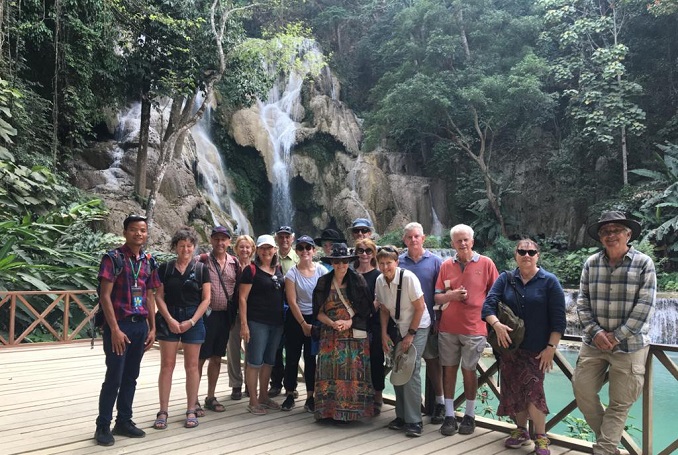 1.5 hour) with a brief stop in a Rice Wine making village, you will arrive at Pak Ou Caves. Pak Ou is not only a particular destination but also a place which shelters historic cultural values.
Visiting the cave, you will see that this is the home to thousands of Buddhist statues with numerous dimensions. After visiting the cave by slow boat we arrive back into Luang Prabang, you will then be transported by bus to experience the Lao Buffalo Dairy Farm, an inspiring nonprofit organization.
Lead by your tour guide, you have the chance to feed the chickens, pigs, buffalos and of course you even have an opportunity to milk a buffalo! After the tour it is time for lunch, whilst enjoying the glorious mountain views your lunch will include a desert of buffalo ice cream and choice of a delicious cake! We continue to the breathtaking Kuang Si waterfalls, the largest in the Luang Prabang. Whilst contemplating the natural beauty, you have the opportunity to take a refreshing swim. Transfer back to hotel in Luang Prabang.
Overnight:
Hotels in Luang Prabang (hotel option)
Meals included:
Breakfast; Lunch
Day 3: Luang Prabang Morning Alms Giving Ceremony, City Temples Tour & Train to Vang Vieng
Rise early to the sound of the temple gong, then join your guide for a walk through the quiet streets to watch the daily procession of three hundred young monks walking silently by, collecting sticky rice and other foods in their bronze bowls. The ritual is linked to a Buddhist tradition in which monks beg for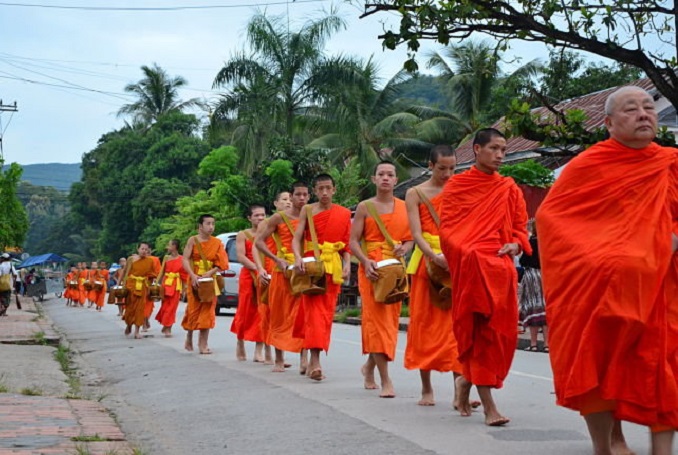 their daily food as a way to demonstrate humility. Alms giving is an important religious act in Buddhism and it must be carried out respectfully by locals and tourists alike. If you would like to be involved in the offering of food, your guide will be more than happy to show you the best way to interact with monks. After this wonderful experience you will be transferred back to the hotel for breakfast.
After breakfast, 8:00Am Being pickup from your hotel then we start our city tour . the first place is Wat Mai Suwannaphumaram Monastery built in late 18th century founded by King Anurat (r. 1795-1817) in 1796 and restored in 1821 by the King Manthatourat.
The Royal Palace Museum called as Haw Kham the Golden Hall, builds between 1904-1909 blend of Laotian and French Beaux Arts architectural as the new official royal residence for the monarchs of Luang Prabang and converted into a Museum in 1976. The Royal Palace Museum opens from Wednesday to Monday at 8:00 am to 11:00 am, and 1:30 pm to 4:00 pm.
Then take the Electric Vehicle to: – The Wat Choumkhong built in 1843 by Phakhu Keo, during the reign of King Sukaseum (1836-1851). The sim was restored in 1933 and 1951.
The Wat Xieng Muan was founded in the mid-19th century by Phragna Sisonxay in 1853, during the reign of King Chantharath Koumane (1850-1868) .
Wat Xieng Thong and Visit a Traditional Lao Wooden House (Heuan Chan Heritage Museum), learn about the architecture of Traditional Houses in Luang Prabang's past.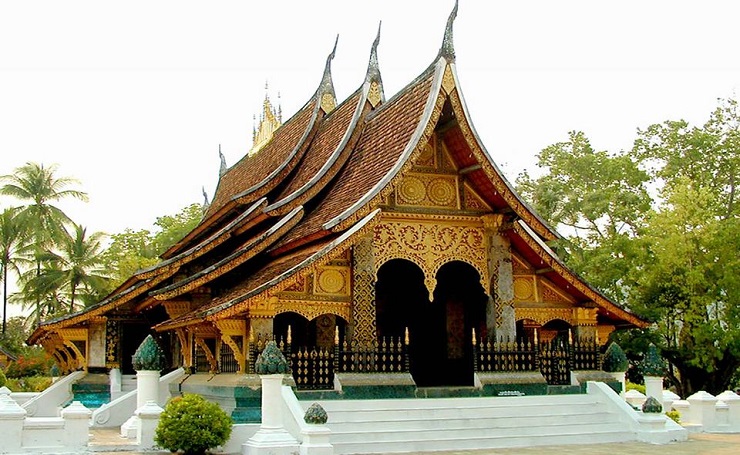 The museum opens for from Monday to Friday at 8:00 am to 12:00 pm and 1:30 pm to 4:30 pm. Discover the Colonial Architecture, on the way to the Wat Xieng Thong one of the most beautiful temple in the town.
Wat Xieng Thong Ratsavoravihanh built in 1560 - 16th century by The King Setthathilat to commemorate the memory of the Chanthaphanith and Jataka stories from Buddhist cosmology. Xieng Thong Ratsavoravihanh, or Volavihan, the "Golden City or Golden Tree Monastery" is the most historically significant and impressive of Luang Prabang's temples a typical Laos Architecture of Luang Prabang. Then enjoy the way along the Mekong River until Wat Wisunalat and the famous Melon Stupa next to Wat Aham,
Wat Wisunalat built during the reign of King Wisunarat (1501-1520) and represents the earliest style referred as Luang Prabang Style of Lao temple architecture. And it was rebuilt between 1896 and 1898 and during the reign of King Sakkarin Kamsuk (r. 1894-1903). And enjoy the way along the Nam Khan River until the peninsula, after a stop on the sandbanks of the Mekong confluence. Continue with next to The World Heritage House:
The Wat Pak Khan, built by Phagna Chanthep under the reign of King Inta Som (1727-76), it was reconstructed in the early 20th century. On the way of the Sakkalin Main street road main stop to:– Wat Kili built in 1773 by the Tai Phuan from Xieng Khouang under the reign of King Rama IV in Rattanakosin period. Next to the Wat Sibounheuang to finish the tour is to visit Wat Sen soukaram (Wat Sen) built in 1718, then take the Electric car to Royal Palace. End tour.
Have lunch on your own and travel to train station for the train to Vang Vieng. Arrive at round 13:00pm where you will check-in to the hotel
Vang Vieng Tham Phu Kham Cave and Blue Lagoon
Afternoon our guide and driver pick you up at 2pm to travel to Tham Phu Kham Cave and Blue Lagoon. Tham Phu Kham Cave and Blue Lagoon is an improvised eco-water park in a scenic village close to Vang Vieng. Observe sharp stalactites and stalagmites as you descend down steep walls to reach the largest hall of the cave, which holds the bronze statue of a reclining Buddha, with several other smaller Buddha images revered by locals. The green-blue waters of the lagoon outside the cave provide a beautiful relaxation spot, as well as the opportunity to re-live your younger years as you jump off a tree into the water. During your tour you can also try your hand at abseiling one of the water slides.
You will be transferred back to the hotel about 5pm.
Overnight: Hotels in LVang Vieng (hotel option)
Meals included: Breakfast
Day 4: Vang Vieng - Vientiane, City Tour and Departure
In the morning, you will enjoy sunrise in Vang Vieng with a special way. Or you can also use your early morning to experience one of 2 Tour options as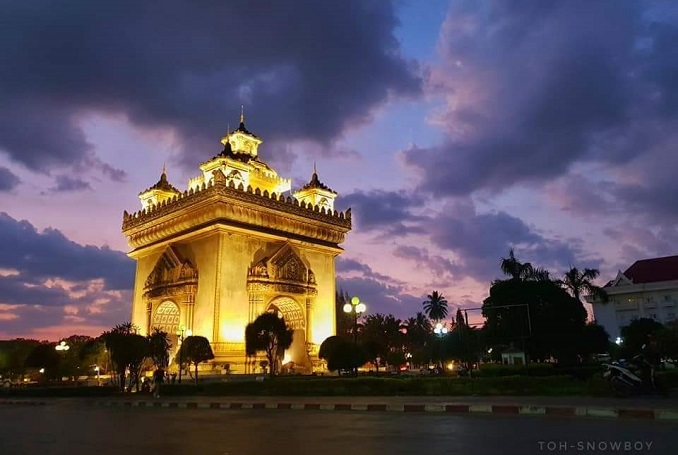 below:
Option Activity 1:
Vang Vieng Hot Air Balloon flight at
US$100/pax
pick up at 5:15 am
Option Activity 2:
Half Day Trekking to Pha Ngern Viewpoint -
US$30/pax
(high level of fitness required) - At 8:00 am after breakfast you will be picked up by the tour guide in a tuk tuk. On arrival in Pha Ngern you will start the climb to the Pha Ngern viewpoint - 650m (approx. 45-60mins). Once you reach the top you will be met by some spectacular views, with picturesque landscapes over the paddy fields that "pop" out in clear view from their flat surroundings. From the top you will also witness a sea of clouds cuddling rocky the mountain peaks. After the trek back down the mountain you will be transferred back to the hotel and arrive at approximately 10:30am.
We will put all stuff in our minivan then start travel to Vientiane in 1.45 hour, Arrive Vientiane Have lunch in a local restaurant then we visit some most particular destination in Vientiane such as Vientiane Buddha Park, Patuxai monument, Wat That Luang, Wat Simuang, Laos National Museum depend on your flight time we can decied to visit more or less then go to airport for your next flight.
Meals Included:
Breakfast, Lunch
Package Price
| | | | | | | | |
| --- | --- | --- | --- | --- | --- | --- | --- |
| No of Pax | 2 | 3 | 4 | 5 | 6-8 | 9 – 12 | Single charge |
| 4 - 5 star hotel | 580 | 495 | 449 | 417 | 400 | 371 | 90 |
| 3 star hotel | 495 | 412 | 367 | 335 | 315 | 290 | 40 |
Notes:
Option Activity 1:
Vang Vieng Hot Air Balloon flight at US$100/pax
Option Activity 2:
Half Day Trekking to Pha Ngern Viewpoint - US$30/pax
Hotels & Locations
Luang Prabang
Vang Vieng
4–5Star Hotel
1, Royal peacock Boutique Hotel
2, Muangthong Boutique Hotel
3, Le Bel Air Resort Luang Prabang
1, Eden de Vang Vieng Hotel
2, Vang Vieng Tmark Resort
3, Amari Vang Vieng
3 Star Hotel
1, Luang Prabang river lodge
3, Jasmine Hotel
4, Villa Mahasok hotel
1, Sansan Resort
2, Vang Vieng Diamond Resort
3, FARAWAY SUITES
Package included:
+ Accommodation optional
+ Private transfer on tour and pick up, drop off (Airport/train station)
+ Speaking English tour guide - experience guide
+ Daily bottle of mineral water
+ Meals as mentioned
+ All entrance fee on tours
+ Vang Vieng, Luang Prabang boat fee
+ Sticky rice, snack and fruits for alms giving tour,
+ Tea, coffee, fruit on boat while visiting Boat to Pak Ou Caves
Package excluded:
+ Drinks
+ Tips
+ Travel insurance
+ Laos arrival and departure air-tickets
+ Personal expense and others not mentioned
Phousi Mount, Luang Prabang Night Market, Mekong Cruise To Pak Ou Caves, Kuang Si Waterfall, Hotels in Luang Prabang, Morning Alms Giving Ceremory,