Day 1: Welcome to Luang Prabang - Mt Phousi - Night market Tour (Meals: N/A)
Welcome to Luang Prabang! Upon arrival, be met and transferred to the hotel. This evening those who are feeling energetic can join a tour of Mount Phousi and a night market.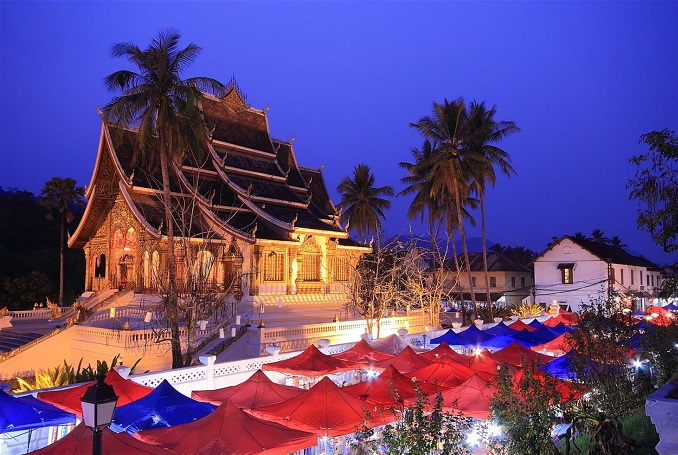 At 4.45pm you will be picked up by the tour guide, to visit Mount Phousi. Rising 150m above the centre of town, Mount Phousi cuts a distinctive figure on the Luang Prabang skyline. The hill is a popular place to watch the sun set over the Mekong River. From the summit you can enjoy a spectacular 360 degree outlook across the city and its many temples, and out over the surrounding landscape to the mountains in the distance. Count on spending a couple of hours for the climb and descent, with several stops to see the temples, rest under shady trees and admire the magical views. After visiting Mount Phousi, the tour guide will take you to visit the night market which has a few hundred stalls.
For those who want to skip the hike and just explore the markets, another guide will meet you at the hotel at 6:30pm for a short walking tour of the night market. Both tours will finish in the main street of Luang Prabang, where there are many dinner options (not included).
Overnight:
Villa Santi resort & Spa/ Sada hotel/Villa Maly Boutique hotel, Luang Prabang, Laos
Day 2: Pak Ou Cave, Buffalo Dairy and Kuang Si Falls (Meals:B,L)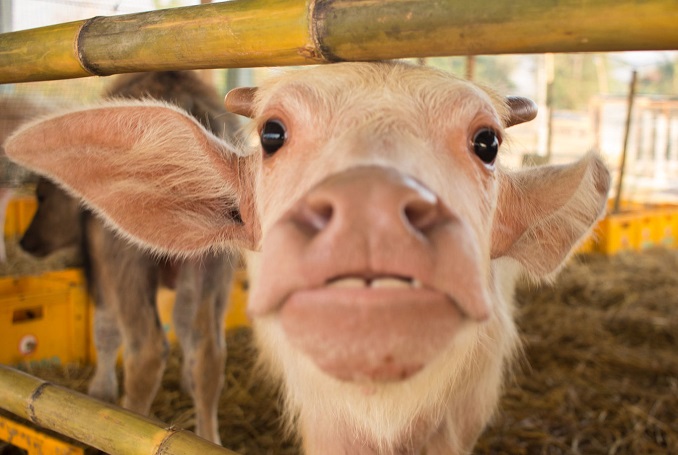 This morning at 7:30am be met by the tour guide and embark on a private boat cruise along the Mekong River (approx. 1.5 hours) with a brief stop in a rice wine making village. After the cruise you will arrive at the Pak Ou Caves. Pak Ou is a place that not only shelters historic cultural values, but is also home to thousands of Buddhist statues. After visiting the cave by boat you will arrive back into Luang Prabang, before travelling by bus to experience the Lao Buffalo Dairy Farm, an inspiring non-profit organisation.
Led by the tour guide, you will have the chance to feed chickens, pigs and buffalo. You will even have an opportunity to milk a buffalo! After the tour enjoy lunch while basking in the glorious mountain views. Lunch will include a dessert of buffalo ice cream and a choice of a delicious cake! Following lunch, continue to the breathtaking Kuang Si waterfalls, the largest in Luang Prabang. Here you can take a refreshing swim while taking in the natural beauty that surrounds you. Afterwards, transfer back to Luang Prabang.
Overnight:
Villa Santi resort & Spa/ Sada hotel/Villa Maly Boutique hotel, Luang Prabang, Laos
Day 3: Elephant Village Sanctuary Luang Prabang (Meals:B,L)
After breakfast, take the opportunity to join an optional Morning Bicycle Tour (not included).
Optional Tour: Luang Prabang Bicycle Tour - US$30
(moderate level of fitness required)
Meet the tour guide at approximately 8:00am who will take you to a nearby bike shop where you can choose your bike. The first stop is Wat Xieng Thong - called "Golden City Temple" and is one of the most beautiful in town. Next, bike to an amazing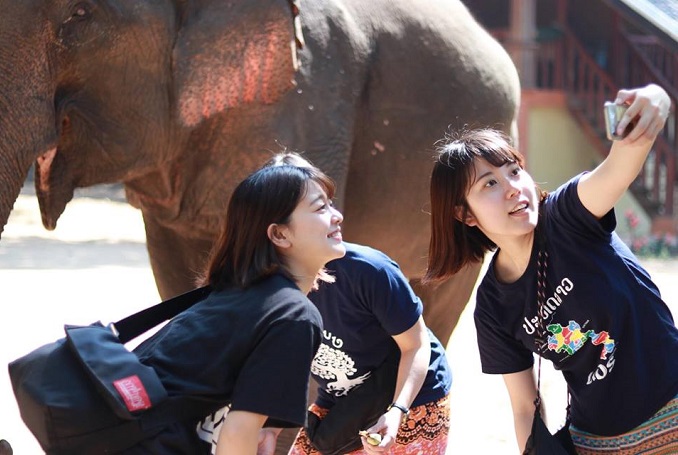 viewpoint, where two rivers; Nam Khan and Mekong intersect. Following this, ride along the Mekong River bank enjoying the fresh air and scenery before stopping at Saffron Coffee. Saffron Coffee is a social or 'profit for purpose' business where profits are reinvested for the benefit of the Laos people. After enjoying a cup of coffee and some stories about the business and locals, the tour heads to the 'Old Town' to see the peaceful life style. Return via the beautiful road by the Nam Khan river bank, arriving back at the hotel at approximately 9:45am.
Later, enjoy an unforgettable experience at the Elephant village Sanctuary. Upon arrival at the Elephant Village Camp you will be greeted by your guide who will give you a short briefing about the elephants and their special relationship to the people of Laos. Afterwards you have the opportunity to get up close and personal with the elephants, as well as feed them. Next, visit elephant museum and elephant hospital. Enjoy a buffet lunch at the Elephant Camp restaurant served with coffee, tea and drinking water (vegetarian options are available). After lunch, we will see the elephants bathing in the river before walking with them to the forest. Transfer back to the hotel at approximately 3:30pm.
Overnight:
Villa Santi resort & Spa/ Sada hotel/Villa Maly Boutique hotel, Luang Prabang, Laos
Day 4: Morning Alms Giving Ceremony - Vang Vieng (approx. 180km day) (Meals:B,L)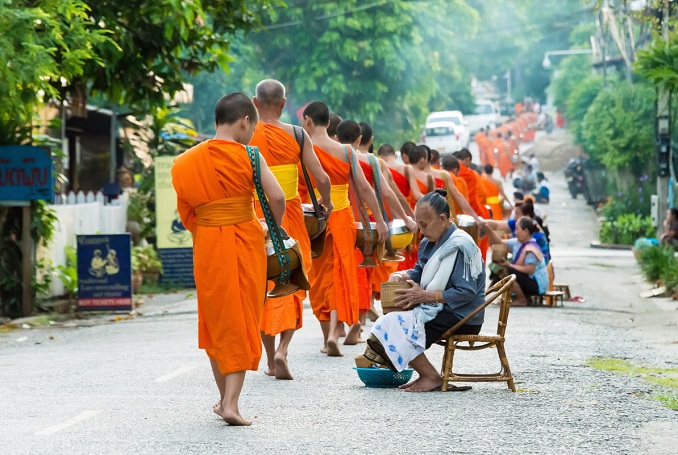 Rise early this morning to the sound of the temple gong, before joining your guide for a walk through the quiet streets to watch the daily processions of three hundred young monks walking silently by, collecting sticky rice and other foods in their bronze bowls. The ritual is linked to a Buddhist tradition in which monks beg for their daily food as a way to demonstrate humility.
Alms giving is an important religious act in Buddhism and must be carried out respectfully by locals and tourists alike. If you would like to be involved in the offering of food, your guide will be more than happy to show you the best way to interact with monks. After this wonderful experience you will be transferred back to the hotel for breakfast. After breakfast, travel to Vang Vieng. Arriving at approximately 12:30pm, check-in to the hotel and enjoy the afternoon at leisure. Alternatively, you can join an optional 'Kayaking on Nam Song River' tour (not included).
Optional Activity: Kayaking on Nam Song River - US$30
Enjoy quick drive 10km North to the ethnic Khmu village of Viengsamay. After an introduction to the basics of kayaking you will set off down the beautiful Nam Song River. From here you will continue travelling downstream to Tham None (Sleeping cave), which is one of the biggest caves in Vang Vieng and served as a rescue shelter for the villagers during the Second Indochina War. Today it is home to a family of bats and the 'Magic Stone' of Vang Vieng. The final leg of the journey is a gentle paddle which will return you back to Vang Vieng, hopefully just in time to catch the sunset.
Overnight:
Amari Vang Vieng/ Eden De Vang Vieng/Vang Vieng Plaza, Vang Vieng
Day 5: Morning at Leisure - Tham Phu Kham Cave & Blue Lagoon (Meals:B)
After breakfast, enjoy the morning at leisure. Alternatively you can choose to join an optional 'Half Day Trekking to Pha Ngern View Point' tour.
Optional Activity: Half Day Trekking to Pha Ngern Viewpoint - US$30
(high level of fitness required)
At 8:00am you will be picked up by the tour guide in a tuk tuk. On arrival in Pha Ngern you will start the climb to the Pha Ngern viewpoint - 650m (approx. 45-60mins). Once you reach the top you will be met by some spectacular views, with picturesque landscapes over the paddy fields that "pop" out in clear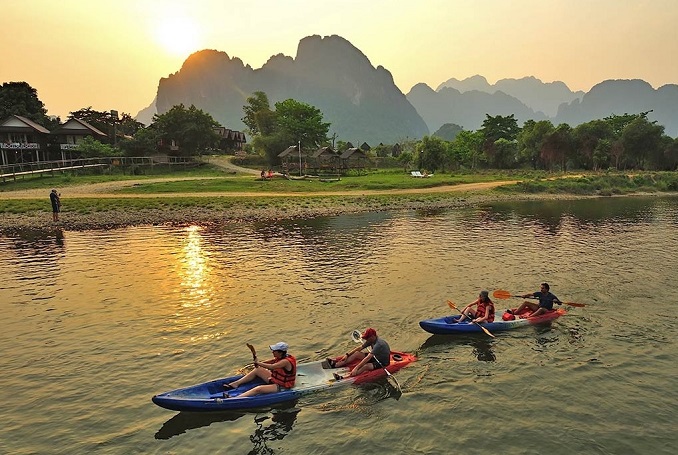 view from their flat surroundings. From the top you will also witness a sea of clouds cuddling rocky the mountain peaks. After the trek back down the mountain you will be transferred back to the hotel and arrive at approximately 10:30am.
This afternoon at 2:00pm travel to Tham Phu Kham Cave and Blue Lagoon. Tham Phu Kham Cave and Blue Lagoon is an improvised eco-water park in a scenic village close to Vang Vieng. Observe sharp stalactites and stalagmites as you descend down steep walls to reach the largest hall of the cave, which holds the bronze statue of a reclining Buddha, with several other smaller Buddha images revered by locals. The green-blue waters of the lagoon outside the cave provide a beautiful relaxation spot. You can also try your hand at abseiling one of the water slides.
At approximately 5:00pm take a long tail boat for an hour long cruise on Nam Song River. You will see the beautiful sunset over the river with picturesque scenery of Vang Vieng. After docking at the boat station you will be transferred back to the hotel.
Overnight:
Amari Vang Vieng/ Eden De Vang Vieng/Vang Vieng Plaza, Vang Vieng
Day 6: Vang Vieng - Vientiane - Buddha Park (approx. 130km day) (Meals:B,D)
T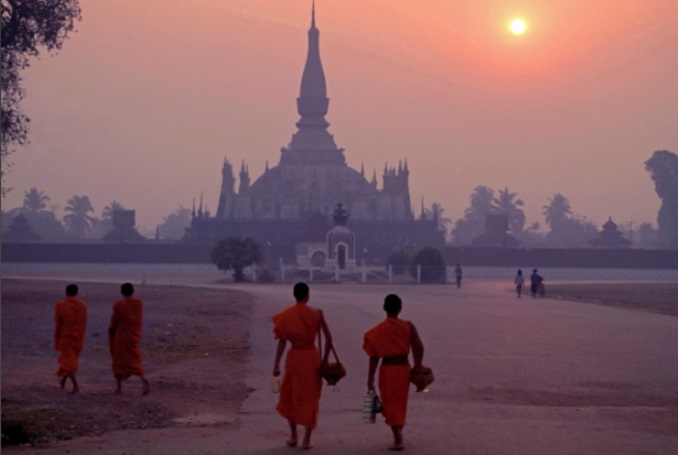 oday after breakfast you will be transferred to Vientiane. Upon arrival check-in to the hotel. Enjoy free time for lunch (not included) and rest.
At approximately 3:00pm, we will visit Buddha Park. Take a stroll around the Buddha Park (Xieng Khuan), filled with more than 200 Buddhist and Hindu statues. The tranquil setting along the Mekong River is a contrast to the slightly eccentric sculptures built in 1958 by a Laos shaman. The concrete sculptures are unique and intriguing, sitting majestically in the peaceful park. Next, enjoy the sunset and night markets situated on the Mekong river bank, which is the natural border between Laos and Thailand. Tonight you will enjoy a traditional dinner with live music at the famous Khop Chai Deu Restaurant.
Overnight:
S Park Design hotel/ Leuxay Hotel, Azalea Park View hotel, Vientiane
Day 7: Vientiane, Laos - Departure (Meals:B)
8:00am After breakfast Guide and driver pick up for the last moment to visit Vientiane city, see the golden Pha That Luang Stupa, before visiting the Patuxai Monument, Laos' version of the Arc de Triomphe, where you can climb the stairs to the roof for sweeping panoramic views of the city
Price: USD620/pax
Peak Season charge USD145/pax
Single charge USD310/pax
Peak season for single charge USD280/pax
Note: Peak season (Oct 1st – 31st Dec & Jan 1st – April 30th)
Optional Tour:
Day 3: Luang Prabang Bicycle Tour - US$30 (moderate level of fitness required)
Day 4: Kayaking on Nam Song River - US$30
Day 5: Half Day Trekking to Pha Ngern Viewpoint - US$30 high level of fitness required)
Notes:
3 nights in Luang Prabang
- Mt Phousi / night market
- Pak Ou Cave, Buffalo Dairy & Kuang Si Falls
- Elephant village sanctuary
2 Nights Vang Vieng
1 Night Vientienne
Accommodation would be 4 star with breakfast
Transfers included