Luang Prabang - Nong Khiaw – Muang Ngoi – Phonsavanh - Vang Vieng – Vientiane – Pakse - Wat Phou – 4000 islands
Day 1: Luang Prabang On Arrival, Phousi Mountain & night market (Meals: Dinner)
On arrival you will be picked up by our tour guide and driver from the airport and transferred to your centrally located hotel.
At 4.30pm you will be picked up by our tour guide, we will visit Phousi mount. Rising 150 meters above the center of town, Mount Phousi cuts a distinctive figure on the Luang Prabang skyline. The hill is popular as a place to watch the sunset over the Mekong River. From the summit you can enjoy a spectacular 360 degree outlook across the city and its many temples, and out over the surrounding landscape to the mountains in the distance. Count on spending a couple of hours for the climb and descent, with several stops to see the temples, rest under the shady trees and admire the magical views.
After visiting Phousi mountain, We will morve to a delecious restaurant nearby for frist great laos cruisine dinner.
After the dinner our tour guide will lead you to visit the Night market with a hundred stalls. The products range from chess games in ornamental stone to silk scarves, passing by embroidery, sculpture, more or less real opium pipes, portrayals of Buddha in all imaginable forms, local paintings done around the symbolic Buddhist representations, etc. It is a place where you must go and where bargaining is often very colorful…tour finish after visiting the night market and transfered back to hotel
Overnight: Luang Prabang Laos (Optional Hotel)
Day 2: Visiting Kuang S Falls, Traditional Village, Slow Boat To Pak Ou cave and Mekong Sunset Cruise (Meals: B,L)
8:30am, we will pick you up from your hotels in the city center and then drive for about an hour to Kuang Si Falls. This adventure destination package takes you to this magnificent and impressive waterfall. Relax and enjoy the spectacular natural beauty of the waterfall. Water from upstream cascades down jagged limestone cliffs into turquoise blue pools of various sizes. We will have 2 hours to explore the three-tiered waterfall, walk along a nature preserve trail, swim in refreshing turquoise pools, and visit a bear conservation center. The adventurous may walk up the steep path to the top of the falls for a spectacular view. After visiting Kuang Si Waterfall and Luang Prabang Bear Rescue Center, we will get back to the minivan and head to the Pak Ou Cave. On the way back, we will visit Ban Na Uang, a Hmong resettlement village. Here you can meet the Hmong people who originally lived in the highlands. From 12:30 to 1pm, we will arrive at a restaurant and enjoy a buffet lunch with a view of the Mekong River. At 2:30pm, we will take a long-tail slow boat to cruise on the mighty Mekong River. Enjoy the many views from the water, witness rural Laos, pass by local villages, fishers, and children, and soak up the scenes of daily life by the river. Our boat travels slowly along the Mekong to the Pak Ou Caves. We will arrive at a small boat landing dock where stairs lead us straight to the caves. These limestone caves have been places of worship for thousands of years, and Buddhist statues and idols fill these natural caves. Hear legends and stories about the caves from our guide and explore them. After visiting the caves, we will enter the Ou River by boat to see the spectacular limestone cliffs
We continue our journey on the Mekong River for another half an hour and stop at Ban Xang Hai, also known as the Whisky Village. Here you can see how Lao Lao, the local rice whiskey, is made and taste some samples. You can also buy some bottles to enjoy later. We leave Ban Xang Hai around 4:00 pm and cruise back to Luang Prabang, enjoying the sunset views from the boat. We arrive in Luang Prabang between 5:30 pm and 6:00 pm and take a transfer to your hotel. This concludes our tour
Overnight: Luang Prabang Laos (Optional Hotel)
Day 3: Alms giving ceremony, Luang Prabang Temples City Tour and travel to Nong Khiaw: Approximate 130km -3Hrs (Meals: B)
Rise early to the sound of the temple gong, then join your guide for a walk through the quiet streets to watch the daily procession of three hundred young monks walking silently by, collecting sticky rice and other foods in their bronze bowls. The ritual is linked to a Buddhist tradition in which monks beg for their daily food as a way to demonstrate humility. Alms giving is an important religious act in Buddhism and it must be carried out respectfully by locals and tourists alike. If you would like to be involved in the offering of food, your guide will be more than happy to show you the best way to interact with monks. After this wonderful experience you will be transferred back to the hotel for breakfast.
Being picked up from your hotel then taking the car for the tour to the nearby morning market is very popular for fresh vegetables, fish from the Mekong River, medicinal plants and other curiosities. From there cross: – The Wat Mai Suwannaphumaram Monastery built in the late 18th century founded by King Anurat (r. 1795-1817) in 1796 and restored in 1821 by King Manthatourat.
Walk to: – The Royal Palace Museum called Haw Kham the Golden Hall, built between 1904-1909 blend of Laotian and French Beaux Arts architecture as the new official royal residence for the monarchs of Luang Prabang and converted into a Museum in 1976.
Discover the Colonial Architecture, on the way to Wat Xieng Thong temple, it is one of the most beautiful temples in the town. Wat Xieng Thong Ratsavoravihanh was built in 1560 - 16th century by The King Setthathilat to commemorate the Chanthaphanith and Jataka stories from Buddhist cosmology. Xieng Thong Ratsavoravihanh the "Golden City or Golden Tree Monastery" is the most historically significant and impressive of Luang Prabang's temples, a typical Lao Architecture of Luang Prabang. Next, we visit Ock Pop Tok Living Craft Centre - the perfect place to learn more about the fascinating world of Lao textiles and handicrafts. Then, we go to UXO Lao Visitors Centre. In here, you will have a chance to visit and watch some wonderful short movies about the unexploded ordnance, for what Lao PDR is the most heavily bombed country, per capita, in history.
12:00: Comeback hotel and enjoy lunch
14:00 Moving to Nong Khiaw by minivan
17:00 Arrival Nong Khiaw, check in hotel
Overnight: Nong Khiaw Laos (Optional Hotel)
Day 4: Full day Visiting Muong Ngoi & Kayaking to 1000 Tadmok Limestone Waterfalls (Meals: B,L)
We pick you up at 8.30am and cruise in a traditional long boat for 1.5 hours up the scenic and peaceful Nam Ou river on our way to Muang Ngoi village. The scenery along the way will give you a sense of tranquility as you pass animals bathing and villagers fishing and going about their daily routines. In Muang Ngoi we have time to have a look around the village which has become a bit of a traveler's retreat with local cafes sprinkled along the one road that the village is built around. We venture out to a nearby cave where people lived during the Secret War. We will enjoy your tasteful picnic lunch overlooking the river.
After lunch, we kayak downstream on the gentle Nam Ou river for 2 hours where you can admire the mountains and jungle, passing small villages before we stop at Sopkong village. We have a simple walk across the countryside and panoramic rice paddies and through the jungle on our way to the attractive and refreshing Tad Mok limestone waterfall. We have a snack here and the chance to cool off and swim in the natural pool at the base of the waterfall. Bring your swimsuit as there is a basic bamboo changing room nearby.
After 30 minutes we trek back to the village and enjoy another relaxing scenic slow boat ride returning to Nong Khiaw about 4.00pm.
Overnight: Nong Kiaw - Laos
Day 5: Nong Khiaw Trekking & Zipline Full Day (Meals: B,L)
After breakfast in the hotel, we depart from your hotel at 8:30 am and head 12 Km east to the starting point, where we will start to trek. The trail passes through a bamboo forest and jungle, giving us the chance to hear and see wildlife (around 20 min trek), until we reach the Zipline area.
We will enjoy the sensation of being weightless in our 6 Zip-lines through the jungle (up to 340 meters long). Once we get to the middle point of our adventure, we will take a short trek to an old hospital used in the Indochina war. Before stopping for lunch we have some new challenges with abseiling, sky-high walk, V rope-bridges and a rope bridge and nets (up to 150 m long and around 65 m high). Then a delicious Lao style lunch is provided. This lunch will be enjoyed at a scenic spot next to a waterfall. After lunch we will head to our Tarzan swing. Finally we will arrive at our highlight with our longest, fastest and most exhilarating Zip-line (400 m long) followed by three more flights through the jungle.
Finally, we will walk across bamboo bridges, pass through rice paddies and enjoy the spectacular views of the surrounding mountainous landscape (approx. 40 min) before approaching the end point and returning to the hotel.
Overnight: Nong Khiaw Laos (Optional Hotel)
Day 6: Nong Khiaw – Xieng khouang (Approx 340 km day) (Meals: B,L)
7:30am we start moving to Xieng Khuang, we will have lunch in a restaurant on the way.
16:30 Arrive Xieng Khoang check in your hotel then free to explore the town and dinner
Overnight: Xieng Khouang Laos (Optional Hotel)
Day 7: Full day Visit Plain of Jar – Vang Vieng (Meals: B,L)
Morning after breakfast - 7:30 AM Pick up at the hotel then we get a feel for the local lifestyle in the Central Market. Then visit the UXO MAG Exhibition Room. We then transfer out to the picturesque Jar Site 1, 2 and the impressive Jar Site 3, consisting over around 150 jars located on top of a hill, offering great views over the surrounding countryside. And then drive out to the ancient town of Muang Khoun, the former provincial capital, where you can explore the ruins of a number of ancient pagodas in the Lanna style That Fun sputa and Wat Phiawat, a ruined temple containing a huge sitting Buddha.
Enjoy lunch and moving to Vang Vieng in afternoon
Overnight: Vang Vieng Laos (Optional Hotel)
Day 8: Full Day Pha Ngern viewpoint & Tham Phu Kham Cave & Blue Lagoon, Kayaking on Nam Song river (Meals: B,L)
At 7:00am you will be picked up by the tour guide. On arrival in Pha Ngern you will start the climb to the Pha Ngern viewpoint - 650m (approx. 45-60mins). Once you reach the top you will find the most spectacular views, with picturesque landscape views over the paddy fields that "pop" out in clear view from their flat surroundings. From the top you will also witness a sea of clouds cuddling rocky mountain peaks. After the trek, We will travel to Tham Phu Kham Cave and Blue Lagoon. Tham Phu Kham Cave and Blue Lagoon is an improvised eco-water park in a scenic village close to Vang Vieng. Observe sharp stalactites and stalagmites as you descend down steep walls to reach the largest hall of the cave, which holds the bronze statue of a reclining Buddha, with several other smaller Buddha images revered by locals.
The green-blue waters of the lagoon outside the cave provide a beautiful relaxation spot, as well as the opportunity to relive your younger years as you jump off a tree into the water. During your tour you can also try your hand at abseiling one of the water slides.
We enjoy lunch in Blue Lagoon and continue with kayaking. A quick drive 10km North to the ethnic Khmu village of Viengsamay. After an introduction to the basics of kayaking you will set off down the beautiful Nam Song River. From here you will continue traveling downstream to Tham None (Sleeping cave), which is one of the biggest caves in Vang Vieng and served as a rescue shelter for the villagers during the Second Indochina War. Today it is home to a family of bats and the 'Magic Stone' of Vang Vieng. The final leg of the journey is a gentle paddle which will return you back to Vang Vieng, hopefully just in time to catch the sunset.
Overnight: Vang Vieng Laos (Optional Hotel)
Day 9: Vang Vieng to Vientiane (Approx 130 km day) (Meals: B, D)
After breakfast, enjoy the morning at leisure. Alternatively choose to join an optional "Vang Vieng Hot Air Balloon Experience" tour.

Optional Activity: Vang Vieng Hot Air Balloon Experience optional activity - US$115/pax: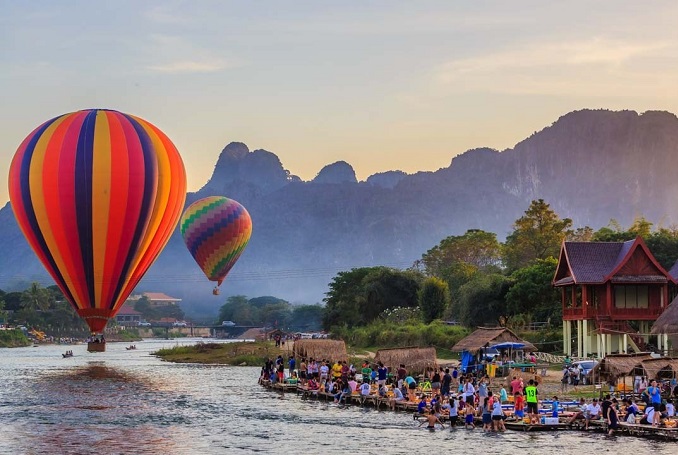 06:30 AM You will be picked up by our staff 30 minutes be for the flight then take about a 10-minute drive from Vang Vieng downtown. Arrive in the Nathong valley where we will meet the flight crews, here you will be train to get used to the the flight regular and safety to ensure that you will have best memory and experience. enjoy the peaceful Lao countryside, far enough from the hustle and bustle of VV! The beauty of ballooning is that you're stepping out of the beaten track and getting to see places you couldn't normally access. What better way to discover Laos?
Every flight is an adventure since a hot air balloon cannot be steered. All we can control is the altitude, and play with the different wind layers. This means we have a rough idea of where we will land, but can't be sure. Some days we manage to fly back to the takeoff field (it's called a box in balloonist lingo), sometimes we land next to one of the villages, or in a rice paddy. Sometimes we cover a bit of distance, sometimes there's very little wind which allows us to fly quite high and admire the view as far as the Nam Gnum lake... Not two flights are the same!

at around 1 PM, we will put all your stuff in our minivan and move to Vientiane. Check in hotel and relax
6- 6:30pm our guide will come and pick you up for Dinner at Khop Chai Due restaurant which is famous for great food with live music.
After dinner our you will be escorted to the Vientiane night market, take a look around before going back to the hotel.
Overnight: Vientiane Laos (Optional Hotel)
Day 10: Fullday Vientiane City Tour (Meals: B,L)
8:00 AM Being picked up by our guide and driver then start your day to discover the hidden charms of Vientiane. Vientiane is one of the quietest capital cities in the world, far away from the bustle and hustle of other Asian capitals.
Your tour begins at
1, the serene Wat Sisaket, the only temple left intact after the Siamese (Thai) invasion in 1828. It is one of the most beautiful temples in the capital, and its breezy teak covered hallways are filled with thousands of miniature Buddha statues.
2, Wat Phra Keo. Used as a religious museum, Wat Phra Keo displays a collection of both Lao and Khmer works of art.
3, the Presidential Palace. Although you are not allowed to visit inside, it is a good glimpse in to the town's colonial past as this building formerly served as the French governor's palace.
4, COPE, an association working to help landmine victims. A visit to the center provides in-depth information about the history of the American/Vietnam war and the lasting impact of unexploded ordinances (UXO) in the area and the efforts underway to clear,
5, Patuxay Monument. Laos' version of the Arc de Triomphe, where you can climb the stairs to the roof for sweeping panoramic views of the city.
6, That Luang, the holiest site in Laos. Constructed by King Setthethirat in the 16th century, the temple is resplendent as the sun is shines upon its towering golden spire.
7, Buddha park, an enchanting collection of Buddhist and Hindu sculptures on the Mekong Riverside meadow, close to the Friendship Bridge. There are approximately 200 religious images dating back over 500 years, which were created by a mysterious monk spreading his philosophy on life and revealing his ideas about the universe.
End your tour of the capital along the banks of the Mekong River as the sun begins to set. Stroll along the river, stop to enjoy a cold drink, or sample a snack from one of the many local food stalls. Tour end.Overnight: Vientiane Laos (Optional Hotel)
Day 11: Vientiane - Pakse by Air (Meals: B)
In the morning after the breakfast we will put all stuff in the minivan to get to airport to take the flight to Pakse Arrive Pakse check in hotel.
Have your lunch and relax till 2:30 pm our tour guide will come and take you to visit temple and market in the town.
Overnight: Pakse Laos (Optional Hotel)
Day 12: Full day discover Bolaven and Tad Yuang waterfall, Tad Fane waterfall (Meals: B,L)
Depart from your hotel on request this tour takes in the full circuit of the Bolaven Plateau. As soon as you leave Pakse the road climbs in elevation as you ascend onto the Plateau. The area of Volcanic Rock makes for suburb tea and coffee plantations which thrive on the rich soil and the cooler climate. Visit tea and coffee plantations and learn about their processing before carrying on to Tad Fane Waterfall.
Tad Fane waterfall sits at an elevation of 1100m and has two stunning cascades dropping 120m off the edge of the plateau. A further 2km from Tad Fane which makes for a pleasant walk or drive through the coffee plantations is Tad Yuang Waterfall which makes a great spot for a swim or a photo. Continue north along the Plateau traveling past Paksong and into Salavan Province. The next stop is the Katu Village of Kok Pungtai where you can learn about this ethnic group and their tradition of building their coffins before they die.
Enjoy lunch before visiting Tad Lo. From Tad Lo spend your time at the waterfall or take an optional walk to a Laven Village about 2km upstream of Tad Lo. Here you will learn about the culture of this tribe and their focus on the center of the village for spiritual worship. Although you may be tempted to stay on in this stunning place there is one more village stop on this circuit before arriving in Pakse. The ethnic village of Lao Ngam is home of the Katu people and has a strong tradition of silk weaving, the many beautiful clothes on show are for sale and make great souvenirs. You can also watch the local women weaving the cloth.
Overnight: Pakse Laos (Optional Hotel)
Day 13: Pakse - Wat Phou Done Kong (Meals: B,L)
At 8 am we 'll start traveling to Wat Phou. Visit Wat Phou – UNESCO World Heritage Site. Wat Phou (meaning 'mountain temple'), is situated on a hillside and offers stunning views over the surrounding land and Mekong River. Visitors who appreciate art and history will be amazed by the magnificent workmanship in this ruined Khmer temple complex in the form of temple pillars, barays, lintels, pediments, terrace, courtyard, walls, doorways, sanctuary, shrine, library and palaces. Enjoy lunch in local restaurant After lunch we continued our journey to a 4000 islands tour cruise downstream passing Don Som, Don Det to see great views on the river, many fishermen fishing by net, animals and people working on the river bank until Don Khone.
We have a short trek to Somphamid (Lii Phii Mekong waterfall) on the way to the waterfall stop on the old bridge. It is a link between 2 islands Don Det and Don Khone since the French colonial era for the railway, the old locomotive and visiting the temple after lunch at a local restaurant.
In the afternoon, drive to visit the great waterfall - the pearl of Mekong called "Khone Phapheng" 130kms to the south. After that driving back to Donkong Island for overnight
Overnight: 4000 islands Laos (Optional Hotel)
Day 14: Don kong (Don Khong) island drive back to Pakse international airport (Meals: B)
This morning after breakfast we 'll check out and get on our Bus to travel back to Pakse International Airport where you can take the next flight out of Laos to Bangkok, Ho Chi Minh city, Phnom Penh, Siem Reap.
Or fly to others cities in Laos such as Luang Namtha, Luang Prabang, Oudomxay, Savanakhet, Xieng Khouang.
From Pakse we also offer sleeping bus ticket from Pakse to Hue Vietnam leave every 6pm, book Pakse - Hue ticket
here
You can also continue travel from Donkong to Cambodia or Thailand as below
Don Khong Laos to Stung Treng cambodia 109km (2.5 hours) Via Nong Nok Khiene Border Crossing (Laos Cambodia Border)
Don Kong Laos to Siem Reap cambodia 405km (7.5 hours) Via Nong Nok Khiene Border Crossing (Laos Cambodia Border)
Don Khong Laos to Ubon Ratchathani Thailand 280km (4.5 hours) Via Chong Mek Customs House (LaosThailand Border)
Pakse Laos to Ubon Ratchathani Thailand 134km (2.5 hours) Via Chong Mek Customs House (LaosThailand Border)
Don Khong Island Laos, Pakse Laos, Nong Nok Khiene Border Crossing ( Laos Cambodia Border ), Chong Mek Customs House ( Laos- Thailand Border ) Wat Phou, Pakse 4000 Islands
Hotel and location:
We will provide hotel name after reserve the accommodation the hotel must be same/similar or nicer to the below )
Luang Prabang: Villa Pumalin or similar
Nong Khiaw: Viewpoint resort or similar
Phonesavanh: Phou Luang Hotel or similar
Vang Vieng: Sansan resort or similar
Vientiane: Vientiane Golden Sun hotel or similar
Pakse: Pakse hotel & Restaurant or similar
4000 islands: Senesothxuen hotel or similar
Private Tour Price base on goup size in USD per person
| | | | | | | | |
| --- | --- | --- | --- | --- | --- | --- | --- |
| Size of Group | Min 2 pax | 3 pax | 4 pax | 5 – 8 pax | 9 pax up | S.S Charge | High Season |
| Premium Option | 2260 | 1945 | 1785 | 1690 | 1510 | 355 | 130 |
| Deluxe Option | 1919 | 1605 | 1450 | 1365 | 1185 | 175 | 65 |
View more photoes of this package on
Fanpage
Lets join in group for better price at
Premium Option: US$1699/pax / Single surcharge US$355 / High season surcharge US$130/pax
Deluxe Option: US$1385/pax / Single surcharge US$175 / High season surcharge US$65/pax
Please visit the link for detail departure dates:
View Departure Dates
Price Notes:
Double/Twin Shared Room
Hotel can be changed to the similar hotel if the mentioned one is not available
High Season: (Oct 1, 2023 - April 30, 2024 / Oct 1, 2024 - April 30, 2025 / Oct 1, 2025 - Oct 30, 2026)
Hotel in all locations:
| | | |
| --- | --- | --- |
| Locations | Deluxe Option | Premium option |
| Luang Prabang | Villa Mahasok Hotel | Santi Resort & Spa |
| Nong Khiaw | Nam Ou view Villa | Resort Maison De NongKhiaw |
| Phonesavan | The Phouluang Hotel | Anoulack Khenlao hotel |
| Vang Vieng | Vang Vieng Diamond Resort | Confetti Garden Hotel |
| Vientiane | Xaysomboun Boutique Hotel | Eastin Hotel Vientiane |
| Pakse | Intouch Riverside Hotel | Le Jardin Hotel |
| 4000 Island | Don Det Hotel | Golden Dondet Hotel |
Included:
+ Flight ticket (VTE => Pakse)
+ Airport transfers Vientiane, Pakse
+ Transportation with A/C during tour
+ English speaking guide during tour
+ Meal as mentioned: B= Breakfast, L = Lunch, D = Dinner
+ Boat trip a mentioned
+ Accommodation with A/C, bathtub & shower onboard
+ All entrance fees during the tour
+ Insurance on-board.
+ Mineral water bottles, Tax and service charges.
Excluded:
- Visa fees and requirements
- Optional activities/tours
- Personal expenses
- Travel insurance (Mandatory)
- Beverages, International Insurance
- Tips, Personal Expenses & Others not clearly mentioned above