You will be picked up by our staff 30 minutes be for the flight then take about a 10-minute drive from Vang Vieng downtown. Arrive in the Nathong valley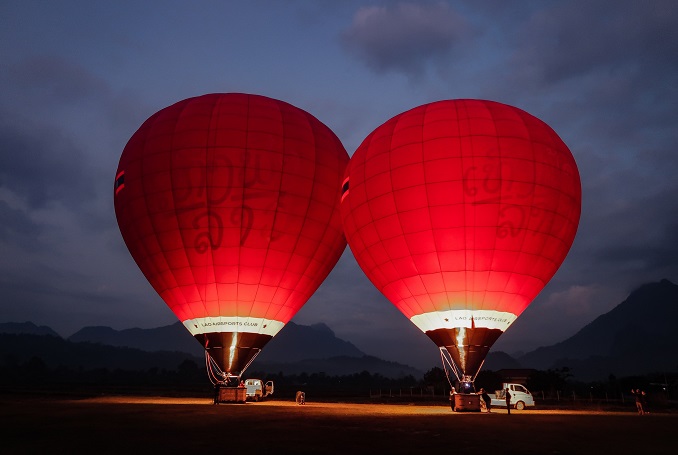 where we will meet the flight crews, here you will be train to get used to the the flight regular and safety to ensure that you will have best memory and experience. enjoy the peaceful Lao countryside, far enough from the hustle and bustle of VV! The beauty of ballooning is that you're stepping out of the beaten track and getting to see places you couldn't normally access. What better way to discover Laos?
Every flight is an adventure since a hot air balloon cannot be steered. All we can control is the altitude, and play with the different wind layers. This means we have a rough idea of where we will land, but can't be sure. Some days we manage to fly back to the takeoff field (it's called a box in balloonist lingo), sometimes we land next to one of the villages, or in a rice paddy. Sometimes we cover a bit of distance, sometimes there's very little wind which allows us to fly quite high and admire the view as far as the Nam Ngum lake... Not two flights are the same!
Booking information notes:
+ Flight:
Please choose the morning flight or afternoon flight
+ Name:
Your full name
+ Pick up:
Your hotels in Vang Vieng
+ Contact:
Phone number or hotel room number
Price: US$120/pax
Included:
Hotel pick up and drop off, hot air balloon ticket
Excluded:
Accomodation in Vang Vieng, breakfast, tip and other personal expense