Tickets With Names - As of Sept. 13, 2022 people who purchase train tickets will be required to show passenger identification documents and passenger names will be printed on the tickets. All passengers other than children must have a ticket with their name on it or they will not be allowed into the station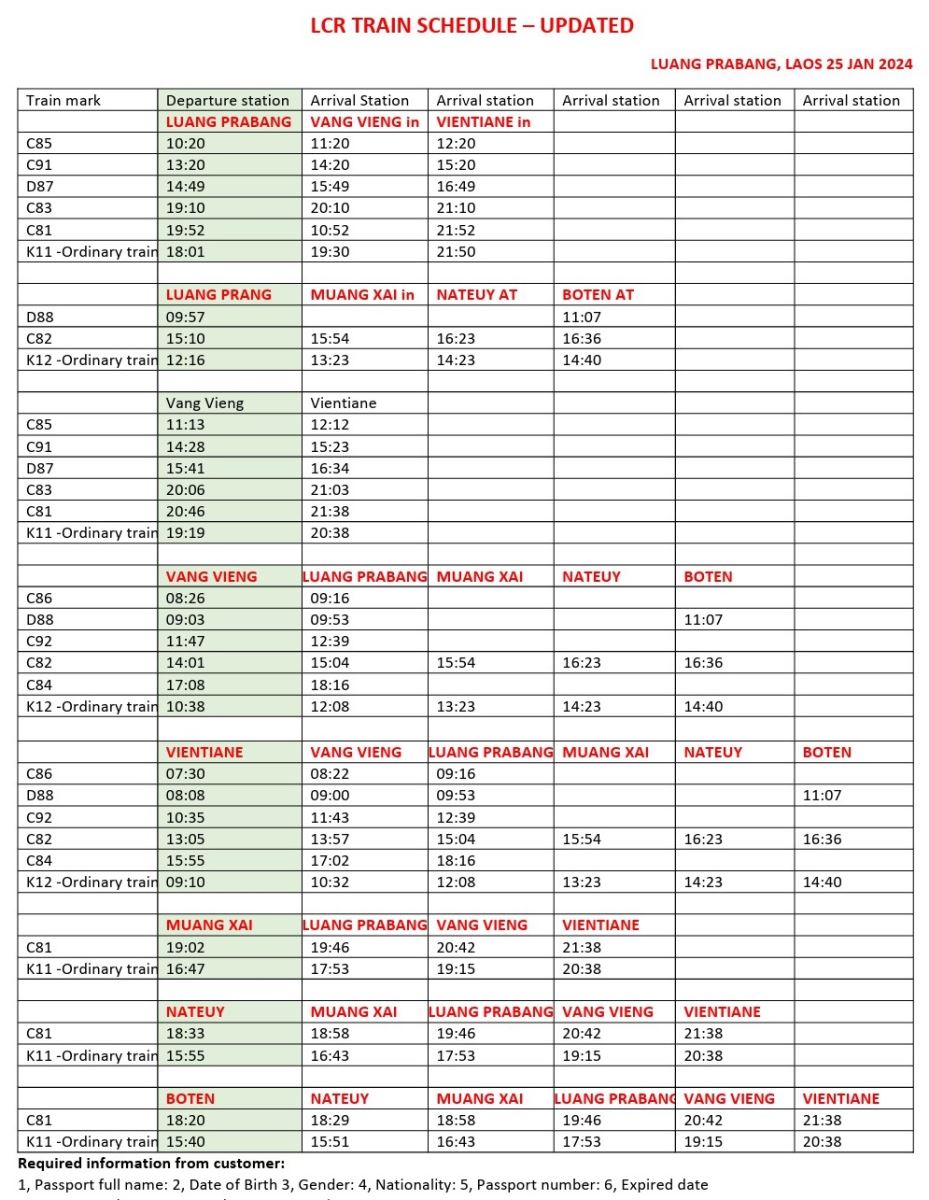 or on the train. Passengers must keep their ticket with them at all times and show it when leaving the departure station or face fines and possible prosecution.
Passengers must be sure their name on the ticket is readable and matches their ID or passport name exactly. Railway staff are known to be strict with rules and may refuse travel if things aren't perfect.
Fees are now being charged for vehicle parking at Vientiane Train Station - 5,000 kip for motorbikes and 10,000 kip for passenger vehicles. Overnight parking for cars is 80,000 kip. Vehicles will no longer have to pay to drop off passengers as was the case in early September.
The K11/K12 ordinary train travels slower at maximum 120 km per hour and can carry 732 passengers in air conditioned carriages - 590 chair seats, 106 wide chair seats and 36 seat/sleeper beds.
For ordinary train service tickets may be sold for same-day travel and immediate departure so passengers may be pretty sure to a get a ticket and a seat if they arrive early and won't need to purchase tickets the day before. Fares will range from 38,000 kip up to 280,000 kip depending on distance and seat class which is lower than fares for the high-speed trains. Passengers will be allowed to carry more baggage with them on these ordinary trains than the 20 kilogram limit per passenger on the fast trains.
The railway stations and ticket offices are only open for times around when trains are scheduled to arrive or depart. At most train stations advance tickets can be purchased up to 3 days before the departure date and payment must be in cash. Passengers are not able to purchase tickets for return travel at the same time as purchasing tickets for the first part of a round trip.
Ticket sales offices away from the train stations are also now open in central Luang Prabang and on the ground floor of Vientiane Center in central Vientiane. Each person may only purchase 2 tickets. Purchaser must show valid ID. Payment can only be made by OnePay app. Currently not accepting cash payment, Visa or Mastercard. A service fee of 20,000 kip per ticket will be charged.
Vientiane Center is located on our Vientiane Central Map between Talat Sao market and Parkson's dept. store.
As of March 17, 2022 a new ticket sales office is now open in central Luang Prabang with the same ticket purchase rules as the Vientiane Center office - see location of our Luang Prabang ticket sales office on our Luang Prabang
Central Map
.
Passengers must carry photo identification and should arrive at the station at least one hour before departure time and remain in the waiting area for inspection of tickets and documents. All passengers should wear protective masks and observe social distancing recommendations.
Passengers without tickets should arrive at least two hours before departure time since you need to queue for ticket purchase and again for entry to the station and then go through security checks. Things can be a little chaotic.
The main railway station interiors are only open a little before and after scheduled train departure times and no toilets or other services such as food or drinks or seats are available outside the stations. Not a good place to wait for very long and not much shade.
No food or beverage service are available at the stations or in the railway carriages. Passengers should bring their own food and drinks.
Samples of passenger fares below starting June 1, 2022 after a 22% fare increase:
Passenger ticket sales are in high demand whenever there is a major Thai Holiday and maybe they need to add more daytime passenger trains while having freight trains go during night time. See furious Facebook user post below from July 26, 2022:
Cargo freight fees were originally set at about 600 kip per ton per kilometer which is promoted as two times cheaper than other modes of land transport. In full operation there will be 22 loading and unloading stations for freight.
The Lao-China Railway (the Project) is a 422 kilometer-long railway line in Lao PDR extending from the border with China near Boten to Vientiane capital city near the border with Thailand. This Project is actually only one section of a larger plan to link Kunming in China to Singapore by modern high-speed rail lines.
Passenger check-in procedure images below:

Only 20 kilograms of carry-on baggage is allowed for each passenger on the high-speed trains. Items prohibited from being carried by passengers into the stations or on trains are:
1) Weapons and ammunition of any kind such as pistols, rifles, sports rifles and other modified guns. (The rule does not apply to civil servants, police officers and soldiers.
2) All kinds of explosives such as fireworks and rocket-propelled grenades.
3) Chemicals, including hydrogen, methane, ethane, butane, ethylene, propylene, acetylene, carbon monoxide, liquefied petroleum gas, fluoride, oxygen (except for medical purposes), gasoline, diesel and kerosene.
4) Drugs of all kinds, including heroin, ephedrine, crystal meth, cocaine and marijuana.
5) Sharp objects such as knives, axes, cutters, etc. that can cause injury or death.
6) Animals, both alive and dead, including cats and dogs.
7) Food that smells bad or watery food that can cause uncleanliness and dirty the surroundings of the train or stations.
Some passengers have complained that even their mosquito repellant and sun screen have been confiscated by over-zealous security personnel. Best to carry only small amounts of these in small non-aerosol containers to minimize losses.
The first passenger train "Lane Xang" below as it arrived in Vientiane October 2021.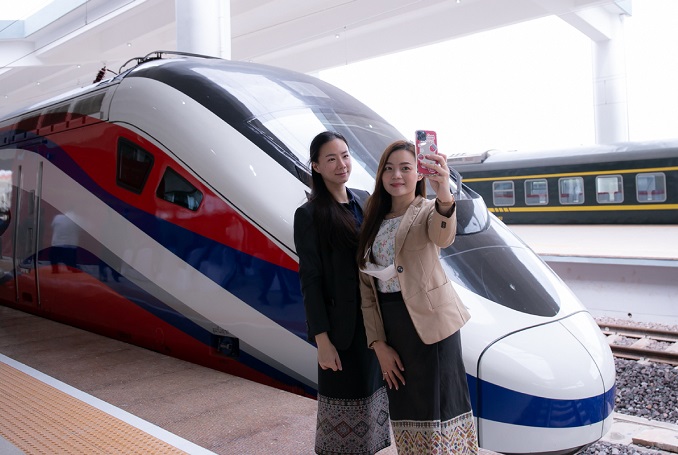 Project is a major achievement for the government of Lao PDR. The Project was promoted, designed and largely financed by the People's Republic of China as part of its Belt and Road Initiative. The project is managed by The Laos-China Railway Company Ltd. (the Company). Total cost was projected at just under US $6 billion.
The Project is planned to have 33 railway stations in total of which 20 or 21 will be operational in the first phase with 12 to be placed into service later. In normal operation passenger trains will operate in daytime while freight trains will run at night. The Project has designated 5 stations as major stations - at Boten, Muang Xai (Oudom Xay), Luang Prabang, Vang Vieng and Vientiane. When fully operational there will be 10 stations where passengers can board and disembark - in Vientiane, Phonhong, Vang Vieng, Kasi, Luang Prabang, Muang Nga, Muang Xay (Oudom Xay), Namor, Natuey and Boten.
Vientiane Station image below. Starting Sept. 12, 2022 vehicles will be charged a fee to park vehicles at the station. Motorbike fee is 5,000 kip and passenger vehicle fee is 10,000 kip per time. Passenger vehicles will be allowed to park vehicles overnight with security for a fee of 80,000 kip. Fees vary for other types of vehicles.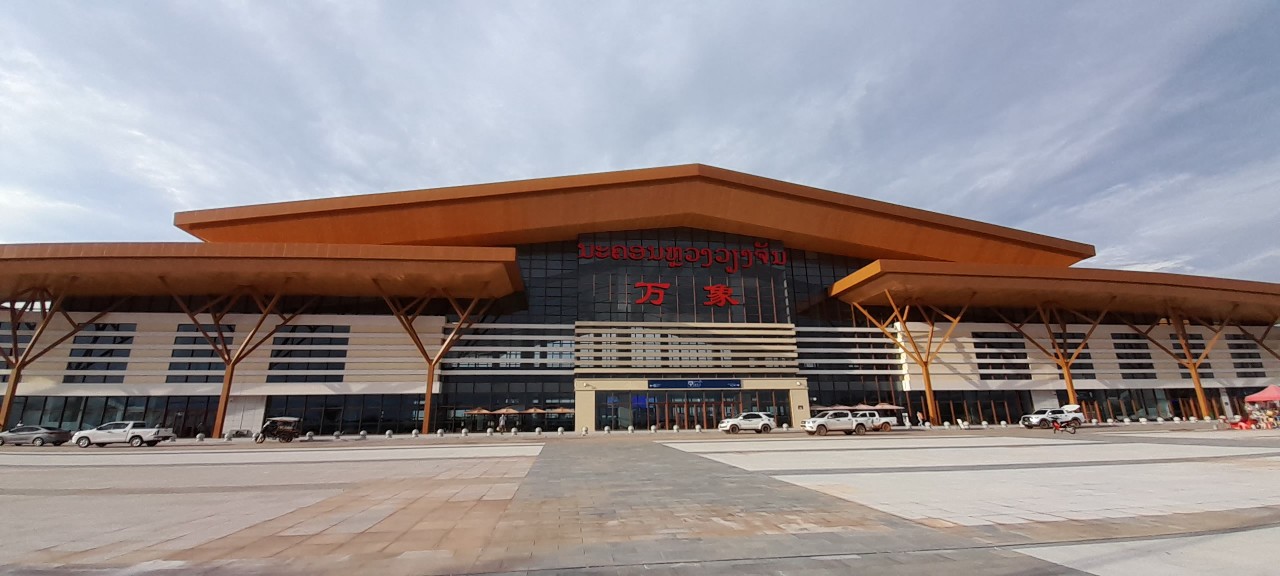 Vang Vieng Railway station image below August 2021:

Luang Prabang Railway Station images below: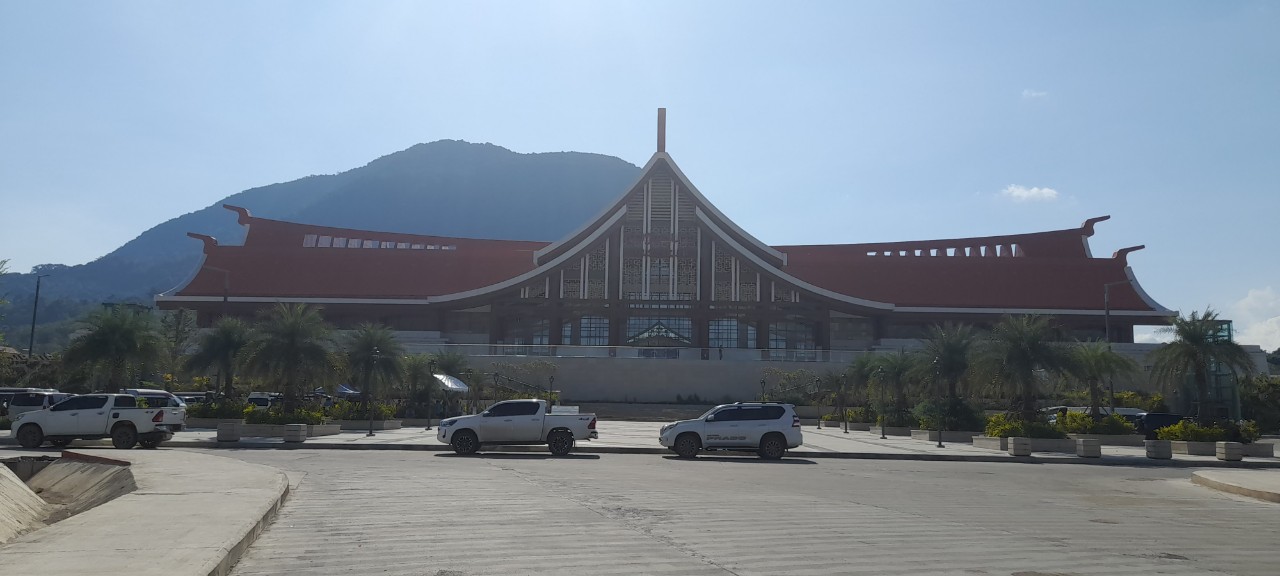 List of first phase railway stations below:
Fast Trains have 9 carriages - the control car, a dining car, a first class car with 56 seats and 6 second class coaches. There are 720 air conditioned seats total. Each seat has an electrical power outlet for use by passengers and all signage and displays are in 3 languages - Chinese, Lao & English.